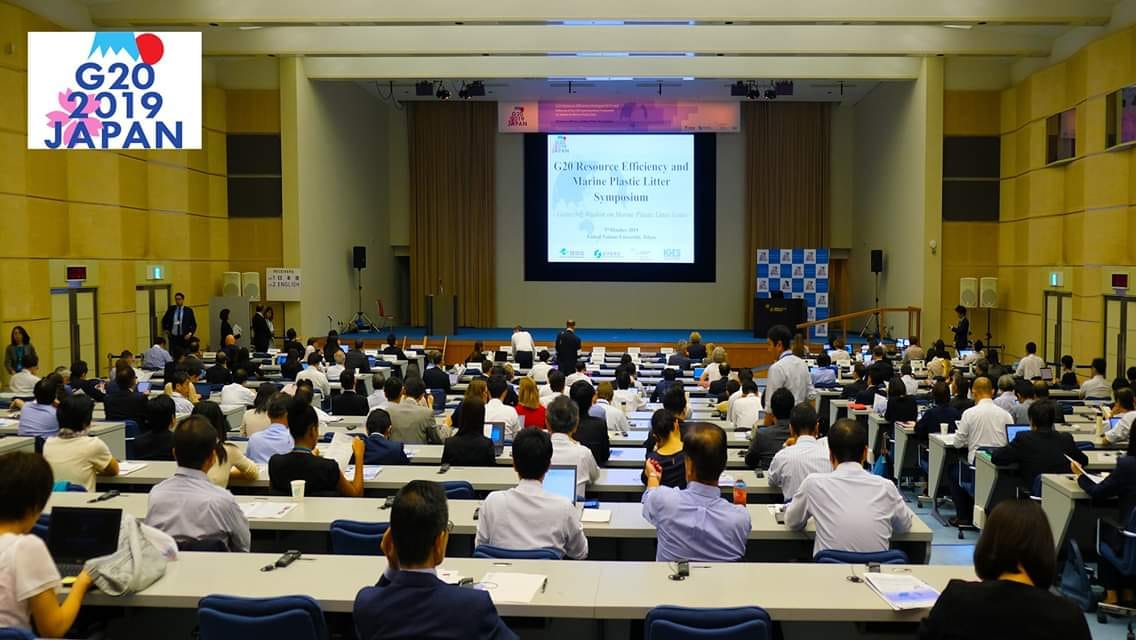 On the 8th of October 2019, MIO-ECSDE joined the 'G20 Workshop on Scientific Knowledge and Innovative Solutions for Marine Plastic Litter' held in Tokyo and shared its insights on the scientific advances and challenges on marine litter monitoring and assessment projects in European Regional Seas. The workshop was co-organized by the Ministry of the Environment of Japan, the EU Directorate-General for Environment and the US Environmental Protection Agency.
Marine plastic litter is a matter requiring urgent action given its adverse impacts on marine ecosystems, livelihoods, and industries including fisheries, tourism, and shipping, and potentially on human health. At the G20 Osaka Summit (June 2019), the G20 Leaders stated their determination to swiftly take appropriate national actions for the prevention and significant reduction of discharges of plastics into the oceans. They also agreed the "Osaka Blue Ocean Vision", aiming to reduce additional pollution from marine plastic litter to zero by 2050 through a comprehensive life-cycle approach, and endorsed the G20 Implementation Framework for Actions on Marine Plastic Litter.
Mindful of the G20 Marine Litter Action Plan adopted in 2017, the aforementioned workshop aimed at contributing to the Vision and the Framework by addressing three themes: sources of plastic pollution, best practices for plastic pollution monitoring, and innovative solutions for reducing marine plastic litter.
MIO-ECSDE was among the invited speakers of the session focusing on best practices for monitoring and assessment of plastic litter and it had the unique opportunity to inform the G20 Leaders about the key findings of European monitoring and assessment projects as well as to highlight the main challenges of turning science into policy and actions.
Dr. Thomais Vlachogianni, MIO-ECSDE Programme Officer and Marine Litter Expert identified the following must dos to ensure that fit-for-purpose marine litter data and knowledge is produced in order to address the knowledge needs of the various stages of the policy cycle:
Harmonized and coordinated common and comparable monitoring approaches should be implemented;
The geographical coverage of survey sites for all marine litter indicators should be increased and expanded;
Homogeneous, consistent data-sets allowing for marine litter cross-border assessment should be collected, managed, valorised and shared via appropriate centralized databases.
MIO-ECSDE welcomes the news about the G20 'Osaka Blue Ocean Vision' to reduce additional pollution by marine plastic litter to zero by 2050 and hopes that it will be backed by measures and actions that will deliver…
Read in French here