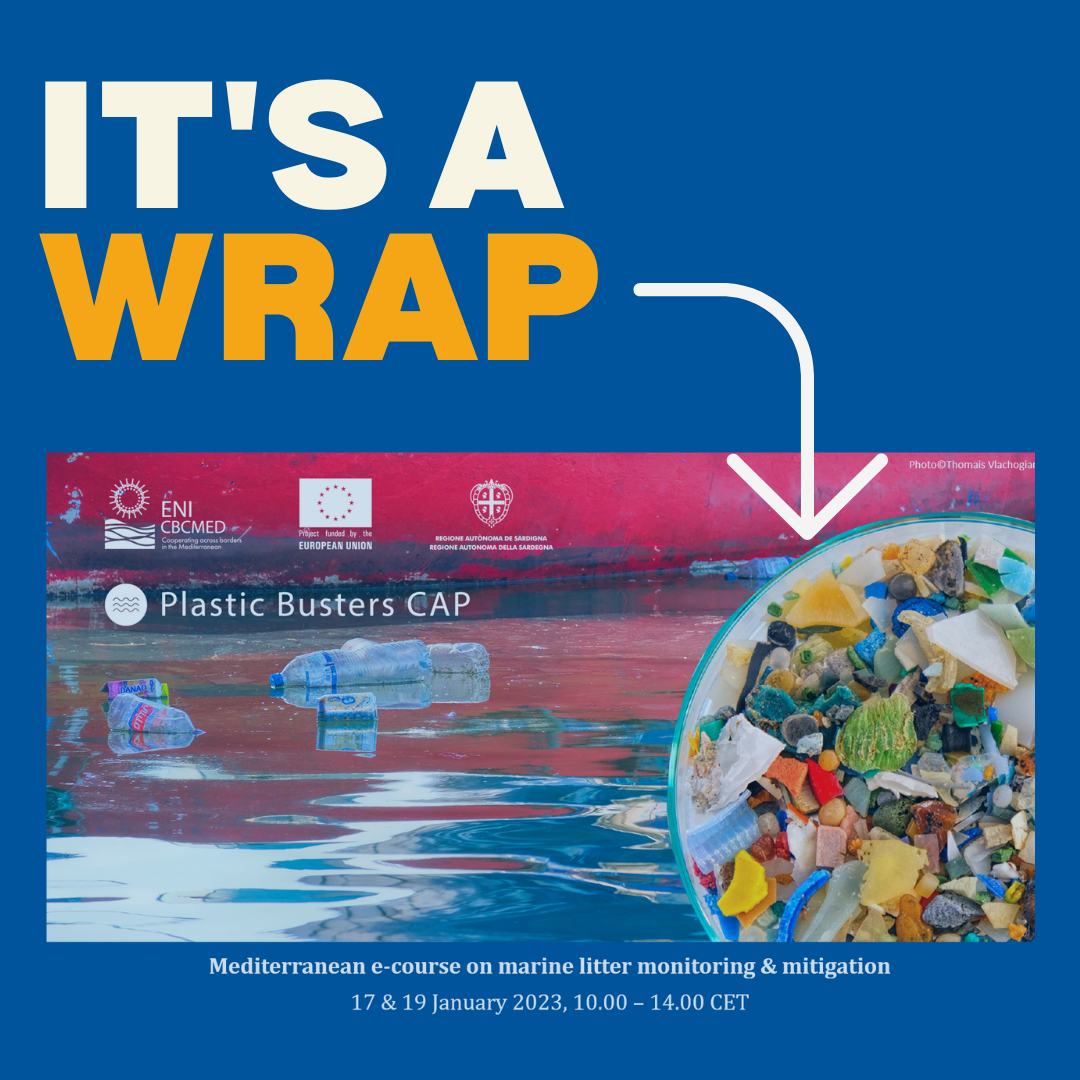 Quelque 256 participants se sont réunis en ligne lors du cours électronique de l'ENI CBC Plastic Busters CAP sur la surveillance et l'atténuation des déchets marins, qui s'est tenu du 17 au 19 janvier 2023. Le cours électronique, organisé par MIO-ECSDE et UNISI avec le soutien du projet financé par l'UE "Water and Environment Support (WES) in the ENI Neighbourhood South Region", visait à créer les conditions favorables à un changement sociétal vers l'utilisation judicieuse et l'élimination durable des plastiques.
Le cours électronique a reçu une attention sans précédent dans le monde entier ; quelque 390 praticiens de la lutte contre les déchets marins se sont inscrits pour y participer, venant de presque tous les pays euro-méditerranéens ainsi que d'Argentine, d'Australie, de Cabo Verde, du Cameroun, de Chine, de Colombie, de la République démocratique du Congo, de la République dominicaine, de l'Équateur, d'Inde, du Kenya, du Mexique, du Nigeria, du Pakistan, du Pérou, des Philippines, de Somalie, de la Corée du Sud, du Soudan, du Sri Lanka, des États-Unis d'Amérique et du Yémen.
Le 17 janvier 2023, le cours électronique s'est concentré sur les approches de surveillance visant à évaluer la présence et les effets des déchets marins ; toutes les méthodes de surveillance les plus récentes ont été présentées, tandis que l'approche de surveillance triple de Plastic Busters visant à évaluer l'impact des déchets marins sur le biote a été mise en lumière.
Le 19 janvier 2023, des présentations ont été consacrées à l'opérationnalisation des actions de prévention et d'atténuation des déchets marins. Les participants ont eu l'occasion d'échanger leur savoir-faire avec des praticiens de la lutte contre les déchets marins qui ont effectivement mis en œuvre des mesures visant les sources marines et terrestres de déchets marins et ont également appris à connaître les mythes et les idées fausses les plus courants concernant les déchets marins.






Grâce à des sessions dynamiques et interactives tout au long du cours électronique, les participants ont discuté en profondeur des différents aspects du problème des déchets marins et ont exprimé à plusieurs reprises leur gratitude pour la grande qualité de la formation.
Les liens vers l'ordre du jour, les présentations, les dossiers de formation et les enregistrements du cours électronique sont indiqués ci-dessous.
Webinar 1  (17th January 2023) – Recording
Webinar 1  (17th January 2023) – Resource Pack
Webinar 1  (17th January 2023) – Presentations
Webinar 2  (19th January 2023) – Recording
Webinar 2  (19th January 2023) – Resource Pack
Webinar 2  (19th January 2023) – Presentations