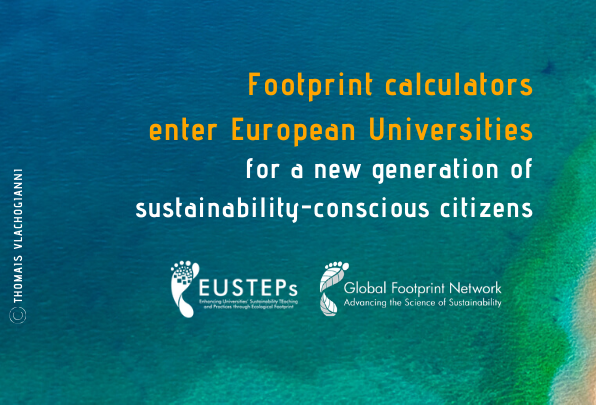 During the last 50 years, humanity's Ecological Footprint has increased by nearly 190% indicating a growing unbalance in the human-environment relationship and, consequently, the necessity for not only a major re-think in how we produce and distribute 'things', but also a shift in consumption activities. Hence, the new ERASMUS+ project EUSTEPs – Enhancing Universities' Sustainability Teaching and Practices through the Ecological Footprint which aims at supporting the assessment and reduction of the environmental impact of Higher Education Institutions (HEIs) through a collaborative participatory approach based on the innovative application of the Ecological Footprint.
The 3-year project (September 2019 to August 2022) was developed by the Global Footprint Network, a MIO-ECSDE Member Organization, in partnership with the University of Siena (Italy), the University of Aveiro (Portugal) and the Universidade Aberta (Portugal) under the leadership of the Aristotle University of Thessaloniki (Greece). The project's website and e-learning platform were launched at the end of February 2020.
EUSTEPs's partners will focus on two key outputs: i) an interactive learning platform providing a set of modules and a MOOC customized for the four target audiences of the project (students, teaching staff, administrative staff, and management bodies) that they envision opening to HEIs around the world after the project is completed in August 2022; and ii) a University Footprint Calculator co-developed by academics, Ph.D. students, administrative staff, and NGO representatives through a participatory process, which will allow users to identify HEIs' unsustainability drivers & initiate a process of reducing their ecological impact.
Through EUSTEPs, leading experts from high-reputation EU Higher Education Institutions (HEIs) across Europe are shaping a new, inclusive approach to engage the whole academic community (students, scholars, staff) in the long path towards sustainability seeking to shape a new generation of sustainability-conscious citizens and professionals who will be trained to measure sustainability with the use of dedicated digital tools.
"The project speaks to the youth, currently the most active segment of civil society," says Alessandro Galli, Director of the Mediterranean-MENA program at Global Footprint Network, "as our organisation strives to accelerate the transition by design to a one-planet compatible society".
EUSTEPs was based on a recent international study to assess the value of personal Footprint calculators in guiding individuals towards sustainable consumption choices conducted by the Global Footprint Network.
Read this article in French here