Marine plastic pollution is becoming an increasingly significant environmental issue, affecting coastal and marine ecosystems across the globe. Aqaba, a coastal city in Jordan situated at the Red Sea, is no exception to this problem. With over 1,000 fish species and 350 coral species, the Red Sea is a highly diverse marine ecosystem that is increasingly threatened by plastic pollution. In response, the Plastic Busters CAP research team conducted an expedition to investigate the impact of plastic pollution on Aqaba's marine ecosystem.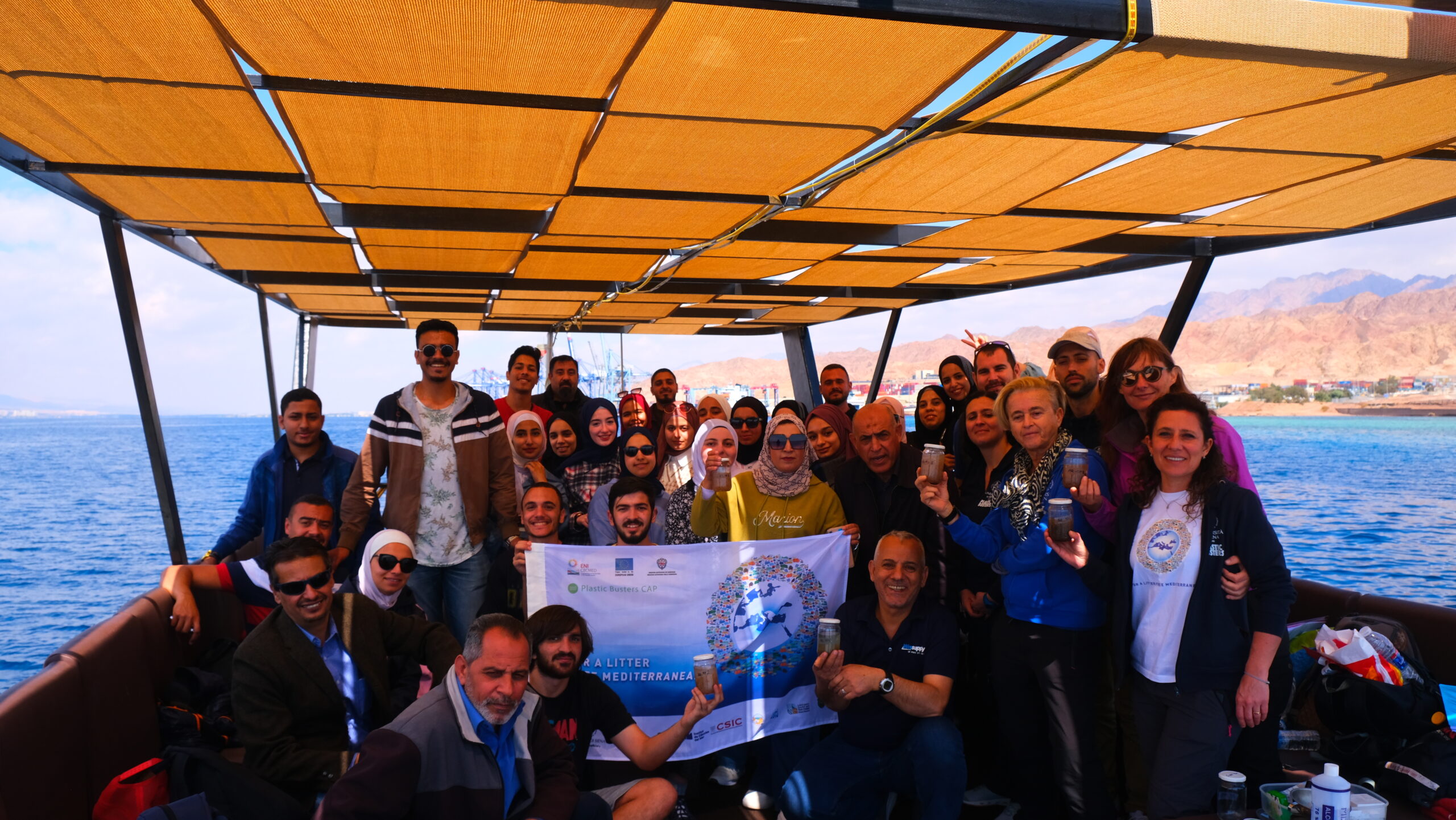 Fifty dedicated students from the University of Jordan joined the team over the course of three days and played a crucial role in collecting samples and conducting surveys to assess the presence and effects of marine litter on beaches, the sea surface, the seafloor, and in biota. The research expedition served as a hands-on training opportunity for the students, who were introduced to the state-of-the-art marine litter monitoring protocols and were equipped with the skills needed to enhance knowledge on the marine litter threat in Aqaba within the scope of their future research endeavours. The overall activity was organized from March 14th to March 16th, 2023, as part of the ENI CBC MED Plastic Busters CAP project, a project labelled by the Union for the Mediterranean.
During the activities, participants had the opportunity to fully exploit the knowledge, know-how, experience, and lessons learned on marine litter monitoring and mitigation from the now concluded Interreg Med Plastic Busters MPAs project. The ENI CBC MED Plastic Busters CAP project is working towards reducing marine litter and promoting a circular economy approach to plastic waste management.
Throughout the expedition, the students carried out field surveys and laboratory activities, where they processed samples to detect litter in biota, water, and beach sediment. The beach macrolitter surveys conducted revealed a striking amount of 18,000 cigarette butts per 100 meters of coastline, highlighting the urgency of taking measures to prevent this specific type of marine litter in Aqaba. During the final session, the participants worked in groups to prioritize tailored mitigation actions, considering criteria related to their effectiveness, feasibility, and social acceptance. The groups focused on addressing smoking-related items and tourism and recreation-related items.
The Plastic Busters CAP activity was well-received and well-appreciated by all participants. The President of the University of Jordan-Aqaba Branch, Prof. Ghaleb Abbasy stated: "We are pleased to have hosted and co-organized this important event in collaboration with MIO-ECSDE and the University of Siena. The event focused on marine plastic pollution, including both macrolitter and microlitter, and is aligned with the overall objectives of the University of Jordan, which has a history of researching the effects of pollution on marine life. The University of Jordan places great importance on the marine environment and has been a pioneer in scientific research in the Gulf of Aqaba for over four decades. We are excited about the next steps in marine litter monitoring and mitigation, which will directly apply the Plastic Busters CAP approaches with the involvement of the participants of this event."