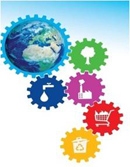 The 11th edition of Green Week, the biggest annual conference on European environment policy, took place from 24 to 27 May 2011 in Brussels. This year's theme was "Resource Efficiency – Using less, living better". Through over some 40 sessions, the conference addressed the problem of resource depletion and scarcity, and the challenges and opportunities presented by constraints on resources.
The Chairman of MIO-ECSDE, Prof. Michael Scoullos was invited to participate and moderate the session on "The blue challenge: optimal use of marine resources", which focused on the manifold opportunities offered by marine resources, and on the dangers of using them in an unsustainable way. It also looked at ways of moving towards a more sustainable exploitation of mineral, biotic and renewable energy resources, which offer additional and alternative economic opportunities and jobs for coastal populations.
The Chairman's presentation was dedicated to "Marine Resources within EU policies" and covered the issues of marine resources management, evolution of marine resources exploitation and management provisions, desalination, fisheries and aquaculture, conventional and renewable energy sources (wind, tidal, wave power, etc.), bioactive marine natural products and valuable chemicals from marine organisms (link with biodiversity). He concluded his presentation with a number of key points/recommendations for EU policy making related to marine issues.
Some key points and conclusions of the session include the following:
The marine and coastal environment should be an area of EU global leadership. The Marine Strategy Framework Directive (MSFD) offers a useful tool for that.
Regarding the Directorate-General for Maritime Affairs and Fisheries (DG Mare): There is an urgent need to stimulate and utilize useful, directly usable outputs, particularly in the areas of off-shore energy, wind energy, desalination coupled with renewable energy sources, etc. and in general mitigate/reconcile the impacts of various sectors, so that these can co-exist.
The technologies and experience are available and should be reflected in the relevant regulatory frameworks. However, over-regulation must be avoided.
Infrastructure and the shipping industry are closely linked and governed by international laws, regulations and standards, such as those under the IMO. Yet, sea and land differ. This should be taken into account and in the same framework ways have to be found to facilitate and link Integrated Water Resources Management (IWRM), Integrated Coastal Zone Management (ICZM) and Marine Spatial Planning (MSP). Artificial boundaries, due to different administrative/legal structures within the countries and at EU level should be avoided, as the marine and coastal environment is a continuum and should be managed as such.
There is a need for enhancement and adaptation in university curricula, through research and training, as well as public awareness raising campaigns in order to bring the marine and coastal environment and its corresponding challenges closer to the people.
Find more info on the Green Week 2011 here