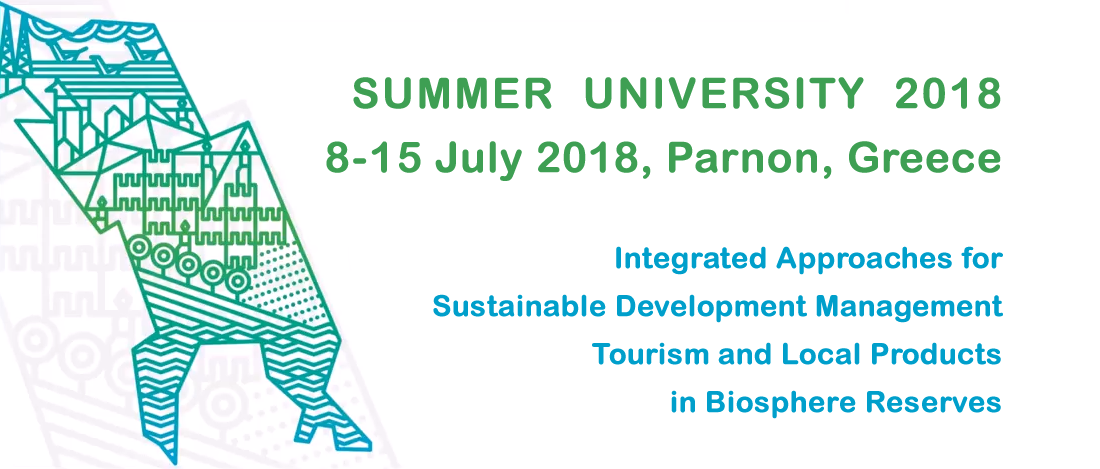 Are you an officer at a management body of a Biosphere Reserve and/or other designated areas or are you an officer at a private/public organisation working on sustainable development, management, or ESD? Are you an junior researcher on Biosphere Reserves and protected areas management? Or, have you recently graduated from a relevant university discipline and wish to be further trained on Integrated Management Approaches within a Biosphere Reserve?
Then the Summer University on 'Integrated Approaches for Sustainable Development Management, Tourism and Local Products in Biosphere Reserves (BRs), from Sunday 8 July to Sunday 15 July 2018, Parnon, Greece', maybe of interest to you!
The Summer University seeks to provide high quality training on different aspects of management, including ESD to post graduate students, young scientists and managers of Biosphere Reserves from European –mostly South European- and Mediterranean countries. The Summer University is a milestone in the efforts of the Parnon region to be designated as a Biosphere Reserve of MAB/UNESCO and be included in the World Network Biosphere Reserves. Following the successful Summer Universities in Amfissa (2014), Samothraki (2016) and Sardinia (2017), the 4th Summer University will provide capacity building around a series of topics including management, local development, protection and conservation.
The Summer University is co-organised and supported by:
Find more info here