PPNEA (Protection and Preservation of Natural Environment in Albania), which has been working on the conservation of the Balkan lynx * in the country for more than 15 years, denounced in June 2020 the poaching of a Balkan lynx and its exhibition in the premises of "Ke Rrema" restaurant in Elbasan. After nearly 2 years of slow-moving investigations, and despite the provision of unequivocal proof that it belonged to the Balkan lynx population of the Elbasan region of Albania, the Prosecutor dismissed the case in February 2022 due to "a lack of evidence".
The illegal poaching of Balkan lynxes and Albania's failure to pursue such cases in the courts are not new. They have been mentioned in the European Commission's 2021 report for Albania, as they violate the fulfillment of the environmental criteria for the country's joining the European Union.
In fact, photographs show that, before this case, the same restaurant had been flaunting two embalmed Balkan lynx individuals in its premises since 2017. Meanwhile, partners of the Balkan Lynx Recovery Programme have evidence that, in the entire range of the subspecies in the South-West Balkans, 14 individuals were poached/illegally killed since 2006. Considering the extremely small size of the population (< 50), this number is shocking and confirms that poaching is indeed a major threat to the survival of this endangered species.
With its Press Release, PPNEA calls upon the Albanian authorities to redress the case taking into consideration the evidence it provided. PPNEA advocates for stricter legal measures to halt the poaching of the Balkan lynx and to prevent its extension.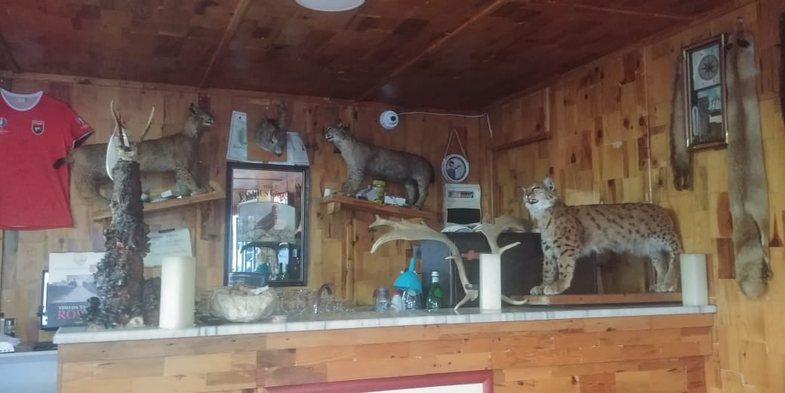 * The Balkan lynx is a distinct subspecies and the most threatened population of Eurasian lynx in the world. With a population of fewer than 50 individuals in the entire Balkan peninsula (and less than 10 individuals in Albania), it is classified as Critically Endangered in the IUCN Red List and has been listed in Annex II of the Bern Convention (Convention on the Conservation of European Wildlife and Natural Habitats).
Read in French here