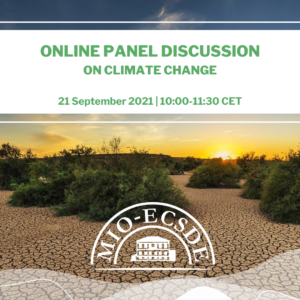 On the 21st of September 2021, MIO-ECSDE organized a high-level panel discussion on "Climate Change: the rapidly increasing challenge for the Mediterranean" providing an opportunity for 14 key Mediterranean actors, to voice clear messages on how the Mediterranean countries are prepared to better address the looming challenge.
The 2-hour on-line event, supported by the EU LIFE Programme and the Green Fund of the Greek Ministry for Environment and Energy, and moderated by Prof. Michael Scoullos, Chairperson of MIO-ECSDE, brought together more than 150 attendees from at least 20 countries. The stimulating discussion aimed to draw the attention of all stakeholders and the wider public on difficult, yet pending questions regarding climate change in the Mediterranean that require urgent and serious consideration and transparent dialogue so as to be comprehensively addressed.
This mobilization of regional stakeholders by MIO-ECSDE took place at a critical moment in the preparations of major regional and global climate discussions and only a couple of days after the Heads of States and Governments of the Southern EU countries met at their 8th Summit to declare their conviction to effectively combat climate change in the Mediterranean.
Wrapping-up the event, Prof. Scoullos highlighted the political importance and relevance of such open public exchanges of views with all key stakeholder groups, governments, elected officials, scientists, civil society actors and opinion leaders and the uniqueness of this opportunity for the Mediterranean region which is one of the most turbulent ones. "Just before COP 26, we all need to be ready at regional and national level to influence important decisions that will shape climate change policy and regulatory frameworks and will have impacts on all aspects of our lives and on the environment."
Some main take-home messages from the discussion were:
Urgent global action is essential, so, by definition, we need regional and national plans
It is undeniable that progress has been made at many levels in addressing the climate change crisis. Important policies are in place or in the pipeline and significant resources have been mobilized. However, it becomes clear that much more needs to be done than what we have already committed to, to accelerate a true system transformation. Many Mediterranean countries need to accelerate much more their activation on climate change adaptation and mitigation.
Science's wake-up call has not been heard yet!
The scientific evidence on climate change impacts is not optimistic at all. Understandably, policy implementation has to sustain a level of optimism and we must encourage every step that is in the right direction. But things are not moving fast enough to avert collapse. Without involving civil society in this challenge, our fight is absolutely inadequate.
Adaptation to climate change is not enough; mitigation must be strengthened through synergy, cooperation, and solidarity
Mediterranean countries have an important opportunity to act fast, also with the support of new EU Neighbourhood policies in place, and reform their economies through synergies and cooperation, innovative projects and programmes aiming for a Green Transition towards zero-emission solutions.
Civil society is now, more than ever, necessary to tackle the escalating climate and environmental crisis
The Mediterranean basin will be one of the first victims of climate change globally. There is a gap in fully understanding the urgency, and civil society, as well as the media, are key players in minimizing this gap, maintaining momentum and boosting policies towards the right direction.
An integrated approach to reach climate neutrality is still missing
Till today, key sectors for the Mediterranean economy and society, such as agriculture, tourism, transport and even the development of renewable energy require a lot more dialogue, work, and innovative open-minded approaches, in ways that are compatible with biodiversity protection. MIO-ECSDE and its members are striving towards this direction.
Curious for more details? Find the event's report here and the event's recording here.
Read in French here.