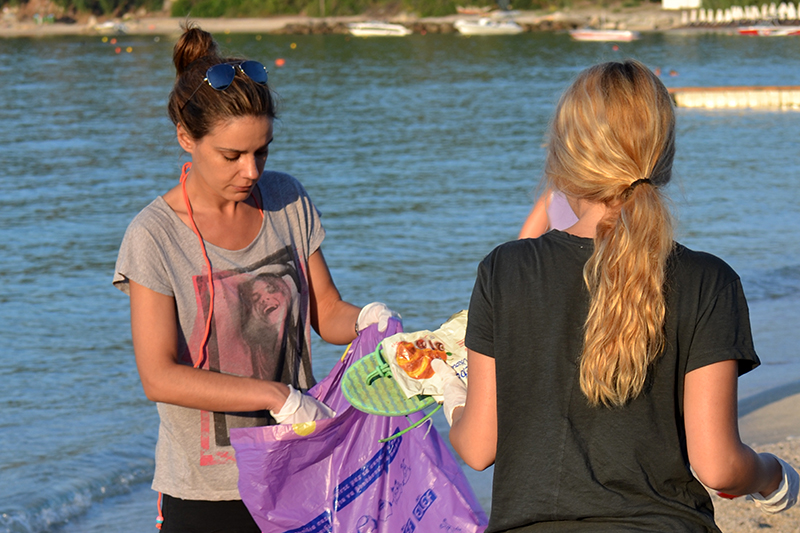 Within the framework of the IPA Adriatic funded DeFishGear project, MIO-ECSDE carried out the third set of beach litter surveys in Thesprotia, Greece, 28-30 July 2015. The previous sets of surveys took place in winter (November 2014) and spring (March 2015). Based on the beach monitoring methodology prepared by MIO-ECSDE in collaboration with other DeFishGear partners, six sites were selected taking into consideration their location (vicinity to ports, river mouths, tourist destinations, coastal urban areas, remote areas) and other features related to morphology, accessibility, etc.
The sites – located at Valtos (Parga), Arrila beach (Perdika), Mega Ammos (Syvota), Drepano (Igoumenitsa), Kalamas estuary and Sagiada beach – were also chosen based on the input received by the Management Body of Kalamas – Acherontas Rivers, who also granted the MIO-ECSDE team with the necessary   permission to perform the surveys in three locations within the protected area.
The results of the one-year-long beach litter surveys will contribute to the identification of risks in the area related to litter that ends up in the marine environment originating from different on- and off-shore human activities (e.g. inadequate urban solid waste management at all stages, discharge of untreated municipal sewage, commercial fishing, etc.) and subsequently facilitate the work of the Management Body, as well as of the local authorities to identify prevention and mitigation actions to tackle marine litter.
The results of the pilot 'monitoring' activity on amounts, composition and potential impacts of marine litter are expected to be published by the beginning of 2016.
It should be noted that MIO-ECSDE and Accademia del Leviatano have undertaken floating litter surveys in the area, while the other Greek DeFishGear partner, the Hellenic Centre for Marine Research, is carrying out marine litter monitoring activities on beaches, seafloor and biota in the area of Corfu.
For more info contact: Thomais Vlachogianni, MIO-ECSDE Programme Officer, vlachogianni(at)mio-ecsde.org