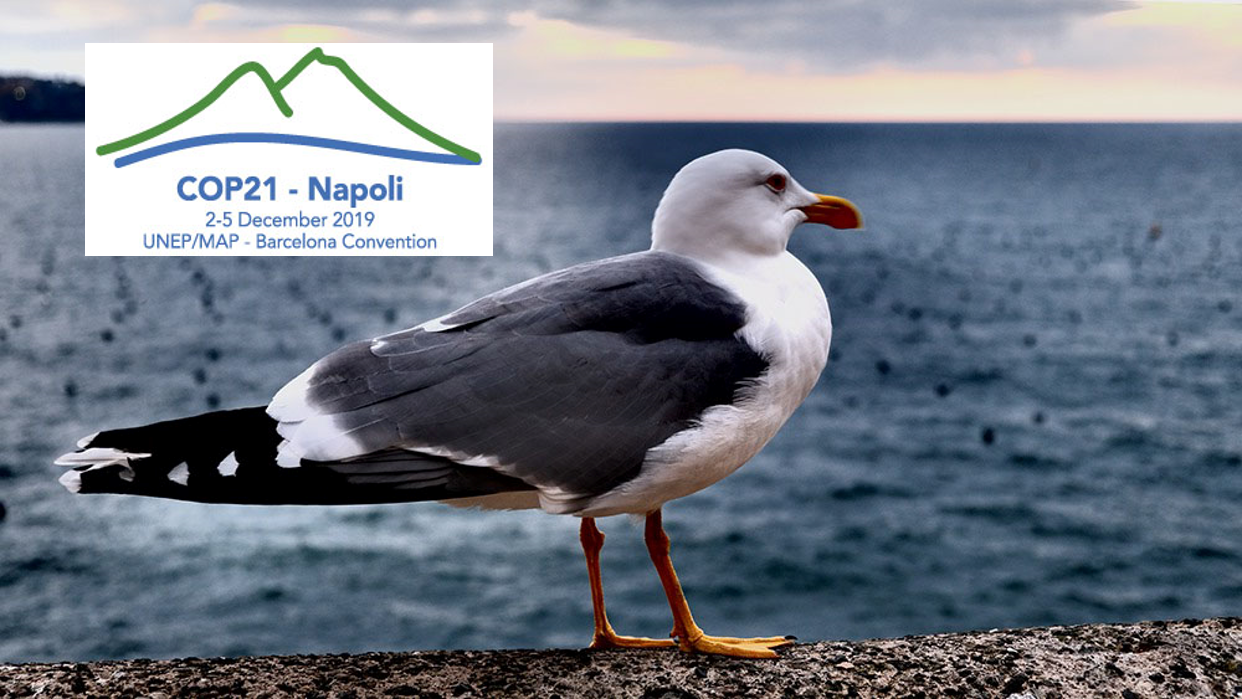 Marine litter in the Mediterranean, in particular marine plastic pollution, and the ongoing concrete efforts to reduce its adverse effects towards good environmental status of the coastal and marine environment were in focus at the Barcelona Convention COP21 side event co-organized by MIO-ECSDE, UNISI and other organizations.
Entitled "A Collective Multi-Stakeholder Driven Mediterranean Response to Marine Litter", the side event took place on the first day of the COP, which is being held in Naples, Italy from December 2-5, 2019 and offered a sense of relief that important steps and actions against this serious challenge have been taken in the region.
The event brought together some 80 participants who had the opportunity to be up-to-date with the science and policy developments as well as the pilot actions and initiatives implemented in the region against marine litter pollution and in support of the Regional Action Plan on Marine Litter Management in the Mediterranean.
MIO-ECSDE Programme Officer, Thomais Vlachogianni, in her intervention stressed the key role of environmental NGOs in the fight against marine litter and shared MIO-ECSDE's recent participatory-science initiative that generated fit-for-purpose data and baseline information on the amounts, composition and sources of marine plastic pollution in several Mediterranean beaches. The initiative – carried out within the framework of the Annual Programme of MIO-ECSDE supported by the LIFE+ Operating Grant for NGOs- brought together 7 environmental NGOs from 5 EU Member States, namely: AKTI PROJECT AND RESEARCH CENTRE (Cyprus), HELMEPA (Greece), MAREVIVO (Italy), MIO-ECSDE (Greece), SEAQUARIUM MARINE INSTITUTE (FRANCE), SUNCE (Croatia) and U MARINU (France).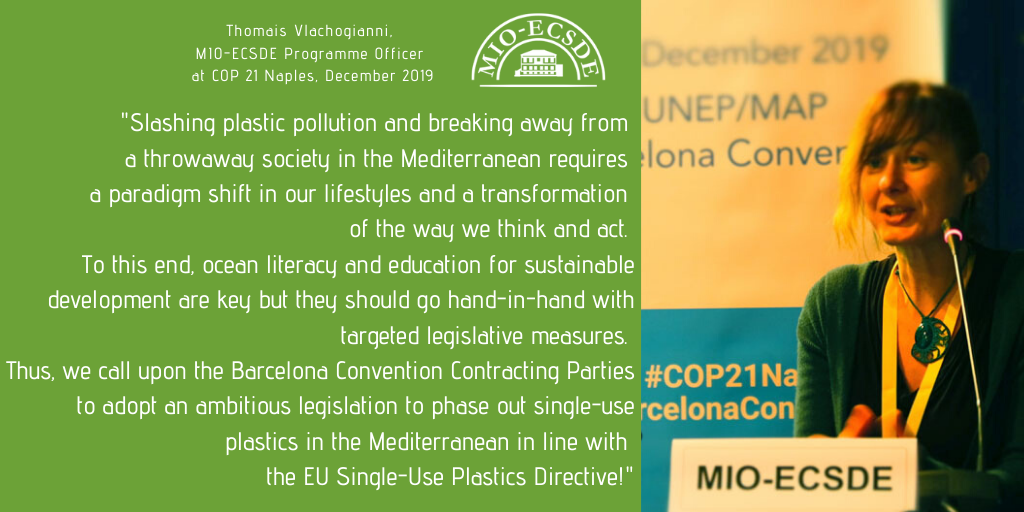 The study found that 30% of the investigated beaches had more than 50% of SUPs, thus providing supporting evidence for the need to fully implement targeted measures to phase out single-use plastics. Within this context, MIO-ECSDE called upon the Barcelona Convention Contracting Parties to adopt targeted legislation to phase out single-use plastics in line with the EU Single-Use Plastics Directive.
Marine litter is an example of a problem that does not have a "one-fits all" solution. It requires a combination of multi-stakeholder and multi-sectorial efforts across nations and disciplines in order to address it effectively. Underlining the imperative need for regional cooperation and multi-stakeholder-driven action, the side event's panelists included:
Gaetano Leone, Coordinator, UNEP/MAP Barcelona Convention Secretariat
Kerem NOYAN, Branch Manager & Environmental Expert, Marine and Coastal Management Department, DG Environmental Management, Ministry of Environment, Turkey
Thomais Vlachogianni, Programme/Policy Officer, Mediterranean Information Office for the Environment, Culture and Sustainable Development (MIO-ECSDE)
Abdul Hafid Chalabi, Ministry of Environment and Renewable Energy of Algeria
Mariacristina Cocca, Researcher, Institute of Polymers, Composites and Biomaterials, National Research Center of Italy (IPCB – CNR)
Francois Galgani, French Research Institute for Exploitation of the Sea (IFREMER)
Cristina Fossi, University of Siena (UNISI)
Teresa Romeo, Researcher SZN, Zoological Station "Anton Dohrn"
Marco Matiddi, Researcher, Italian Institute for Environmental Protection and Research (ISPRA)
Florence Descroix – Comanducci, Executive Secretary, Agreement on the Conservation of Cetaceans of the Black Sea, Mediterranean Sea and Contiguous Atlantic Area (ACCOBAMS)
Sana Taktak Keskes, President, Association of Continuity of Generation (ACG)
Christos Ioakeimidis, Marine Litter Expert, MED POL, UNEP/MAP
Despite the substantial efforts invested and the achievements made on the marine litter threat, it became very clear during the discussions that so much more remains to be done to finally tackle this societal challenge.
Read in French here