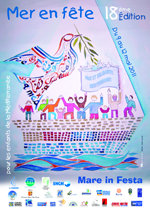 MIO-ECSDE/MEdIES participated in the 18th "Mer en Fête" event, organized by MIO-ECSDE member organization U-Marinu, on a boat travelling between Marseille and Corsica with stops at Bastia and Ajaccio. More than 5.000 kindergarten and primary school students attended the 3-day event from 8 to 13 May 2011. They had the opportunity to explore the "Mare Nostrum" through more than 60 workshops and with the help of 130 animators they gained a better understanding of the Mediterranean eco-cultural heritage and ways to protect/safeguard it. This year's participation demonstrates the popularity of this innovative event.
In parallel with the above mentioned event, the 13th Med'Educ was held this year on 11th May 2011, in the conference hall of Danielle Casanova boat, in Marseille. Educators, NGOs, academia, researchers attended the workshops on Mediterranean culture and environment. One of the workshops was dedicated to U-Marinu's campaign for the implementation of the Agenda 21 at schools in the Mediterranean within an eco-cultural context.
MIO-ECSDE/MEdIES discussed possibilities of supporting U-Marinu's campaign through the MEdIES online network.
Find more info: