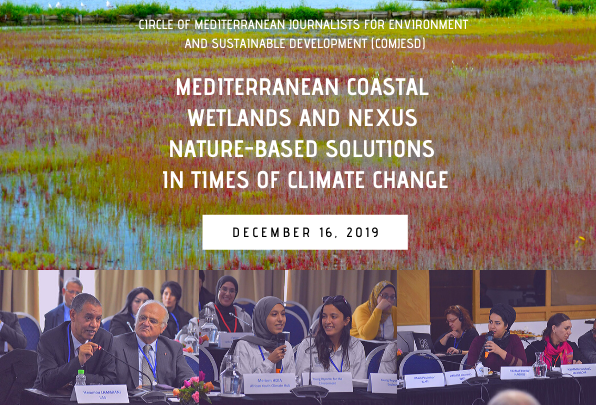 Wetlands are among the world's most productive environments. At the crossroads of key economic sectors, wetlands are wellsprings of biological diversity and provide vital natural resources as well as valuable services to humankind, representing a significant opportunity for "nature-based solutions". Yet, the Mediterranean region has already lost more than 50 percent of its wetlands since 1900. With climate change a direct threat to natural habitats and human development in the region, effective coastal area management, including of wetlands, becomes even more urgent, to mitigate its impacts.
Since the media and civil society play a key role in raising public awareness on challenges, impacts and solutions on climate change, a training took place on the 16th of December 2019, entitled "Mediterranean Coastal Wetlands and Nexus nature-based solutions in times of climate change". It was attended by 20 Mediterranean journalists and 45 representatives of Mediterranean NGOs.  It aimed to equip journalists and civil society representatives with a deeper understanding of climate change challenges in the Mediterranean and coastal wetlands' crucial contribution in mitigating climate change impacts through nature-based solutions, and reinforcing coastal communities' resilience while protecting biodiversity. It also aimed to support the Circle of Mediterranean Journalists for Environment and Sustainable Development (COMJESD) which is jointly supported by MIO-ECSDE and GWP-Med.
Tools to address the impacts of climate change on coastal wetlands were presented and discussed, such as the water-energy-food ecosystem (WEFE) Nexus approach that highlights the interdependencies between climatic change wetlands and the water, energy and food sectors, and Drought Maps. Prof. Michael Scoullos, Chairman of MIO-ECSDE and GWP-Med, shared some key elements of a forthcoming Handbook on Governance & Wetlands, supported by the MAVA Foundation, which includes a checklist for action on institutional settings, policymaking and management instruments towards coastal wetlands' sustainability.
Along with access to scientifically accurate information it is also vital for journalists and NGOs to have the skills to process and present it in a convincing and effective way to the public. So, one session of the training was dedicated to data visualization tools useful in reporting. Overall, the trainees were very satisfied with the training and the 3-day events in Rabat but look forward to more hand-on follow-up and consolidation work.
The voice of the new generation of reporters was also present and clearly heard from the 'Young Reporters for the Environment' and Ambassadors of the 'African Youth Climate Hub' both important initiatives of the Moroccan MIO-ECSDE Member Organisation 'Fondation Mohammed VI pour la Protection de l'Environnement'.
The training was co-organised by the Mediterranean Information Office for Environment, Culture and Sustainable Development (MIO-ECSDE), the Global Water Partnership – Mediterranean (GWP-Med), the "OFF YOUR MAP" campaign coordinated by MedWet and supported by the MAVA Foundation for Nature, the International Water Management Institute and the 'Making Water Cooperation Happen in the Mediterranean' project (aka the Water Matchmaker) supported by the Swedish International Development Cooperation Agency (Sida).
Read more here about the details of the training itself as prepared by GWP-Med. MIO-ECSDE and GWP-Med jointly support the Circle of Mediterranean Journalists for Environment and Sustainable Development (COMJESD).
Read more about what happened in the two days that followed the training here.