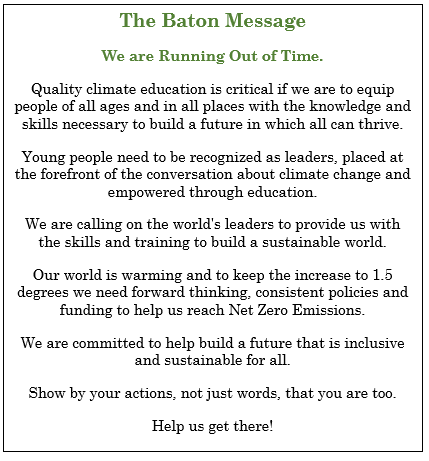 The Hellenic Society for the Protection of Nature (a full member of MIO-ECSDE) coordinated the relay for Climate Change as it passed through Greece.
The Running Out of Time: Relay for Climate Change was a non-stop 7,767km relay starting from Glasgow, Scotland which hosted COP26, and ending in Sharm el-Sheikh, Egypt which hosted COP27.The runners and cyclists carried the baton and with it a resounding message about climate change from the new generation to world leaders at COP27.
Facts about the relay:
Organized by: The World Relay Ltd, in cooperation with Foundation for Environmental Education (FEE) and Carbon Copy
Duration: 40 days,
Coverage:16 countries (United Kingdom, France, Belgium, the Netherlands, Germany, Austria, Italy, Slovenia, Croatia, Bosnia and Herzegovina, Montenegro, Albania, Greece, Cyprus, Israel, and Egypt)
Participants: Over 1500 participants helped carry the relay baton,
Fundraising: The relay raised funds for the Foundation for Environmental Education's Global Forest Fund and Carbon Copy.
The relay baton arrived in Greece on 24 October 2022 and crossed the country in 3 days, with mass participation of runners, cyclists, and citizens of all ages in parallel events throughout the route, escorted by a very wide coverage of national and local media. The initiative contributed to an increase of awareness and public understanding about the challenges of climate change, as well as about important climate initiatives and actions all over Greece.
Read in French here