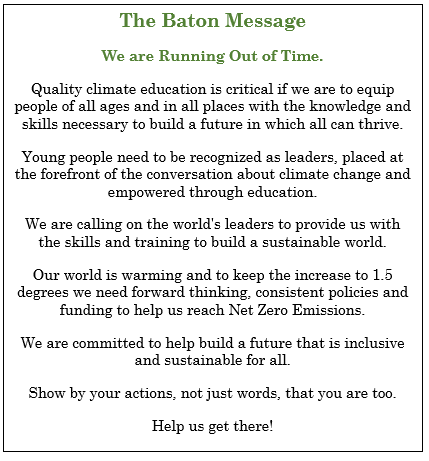 La Société hellénique pour la protection de la nature (membre à part entière du MIO-ECSDE) a coordonné le relais pour le changement climatique lors de son passage en Grèce.
La course Running Out of Time : Le relais pour le changement climatique était un relais non-stop de 7,767 km partant de Glasgow, en Écosse, qui a accueilli la COP26, et se terminant à Sharm el-Sheikh, en Égypte, qui a accueilli la COP27. Les coureurs et les cyclistes ont porté le relais et avec lui un message retentissant sur le changement climatique de la nouvelle génération aux dirigeants mondiaux lors de la COP27.
Faits concernant le relais :
Organisé par : The World Relay Ltd, en coopération avec Foundation for
Environmental Education (FEE) et Carbon Copy.
Durée : 40 jours,
Couverture : 16 pays (Royaume-Uni, France, Belgique, Pays-Bas, Allemagne, Autriche, Italie, Slovénie, Croatie, Bosnie-Herzégovine, Monténégro, Albanie, Grèce, Chypre, Israël et Égypte).
Participants : Plus de 1500 participants ont aidé à porter le bâton de relais,
Collecte de fonds : Le relais a permis de collecter des fonds pour le Global Forest Fund et Carbon Copy de la Foundation for Environmental Education.
Le relais est arrivé en Grèce le 24 octobre 2022 et a traversé le pays en 3 jours, avec une participation massive de coureurs, cyclistes et citoyens de tous âges à des événements parallèles tout au long du parcours, escortés par une très large couverture des médias nationaux et locaux. L'initiative a contribué à sensibiliser le public et à lui faire mieux comprendre les défis du changement climatique, ainsi que les initiatives et actions importantes en faveur du climat dans toute la Grèce.