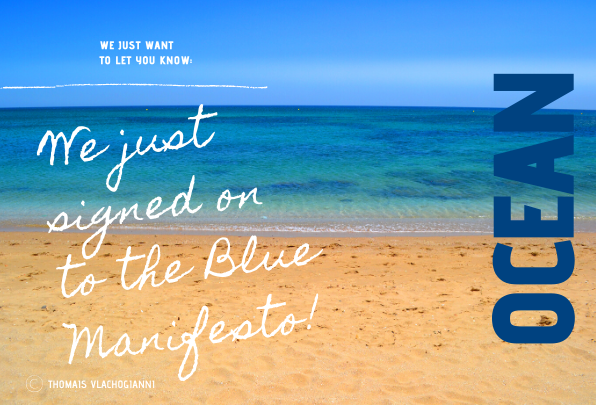 In response to the unrelenting deterioration of the marine ecosystems around the world, 102 environmental NGOs, among which MIO-ECSDE, launch a new rescue plan for Europe to make our ocean healthy by 2030. The 'Blue Manifesto' -an initiative led by Seas At Risk, BirdLife Europe, ClientEarth, Oceana, Surfrider Foundation Europe and WWF- lays out concrete actions which must be delivered by set dates in order to turn the tide on the ever-degraded and polluted ocean and coastlines.
In 2008, European governments committed to have "ecologically diverse and dynamic oceans and seas which are clean, healthy and productive" by 2020. They are nowhere near achieving this. The signatories of the Blue Manifesto urge European governments to take global leadership towards restoring marine ecosystems and putting an end to overexploitation, destructive practices and pollution. This will require systemic change, not only at sea, but on land as well.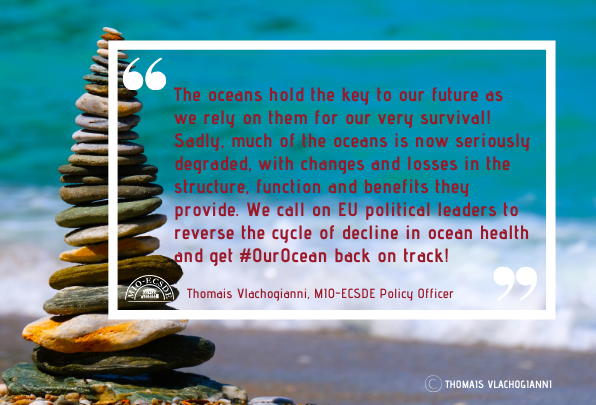 Thomais Vlachogianni, MIO-ECSDE Programme and Policy Officer said "The oceans hold the key to our future as we rely on them for our very survival! Sadly, much of the oceans is now seriously degraded, with changes and losses in the structure, function and benefits they provide. We call on EU political leaders to reverse the cycle of decline in ocean health and get #OurOcean back on track!"
With the European Green Deal, the European Commission has committed to implement ambitious climate and biodiversity strategies that will shift investment and legislation towards a climate-resilient and ecologically diverse future. The signatories of the Blue Manifesto call on the European Commission to ensure that the ocean is an integral part of these strategies as we need thriving marine and coastal ecosystems to support a climate-resilient future.
The Blue Manifesto calls for:
The adoption of a new Circular Economy Action Plan that includes measures to: reduce absolute resource use, including plastic; increase resource efficiency; and prevent leakage of plastics in the sea.
The adoption of ecosystem-based Maritime Spatial Plans which include at least 30% of highly or fully protected MPAs and areas for human activities allocated based on ecosystem sensitivity.
Implementing effective fisheries management measures to eliminate bycatch of sensitive species and shift to low-impact fishing.
The adoption of a Chemicals strategy for sustainability and a Zero-pollution strategy with clear goals to prevent exposure to harmful chemicals in air, soil and water (through the Water Quality Action Plan) to ensure a non-toxic environment for current and future generations.
Leading environmental NGOs invite citizens, institutions and stakeholders to participate in the free activities organized during "Ocean Week" from February 3 to 9, 2020. During this week, a series of events will debate, exchange experiences and solutions on the challenges the ocean is facing. The Ocean Week programme is available at www.oceanweek.eu
Find the full-text Blue Manifesto here
Read this in French here