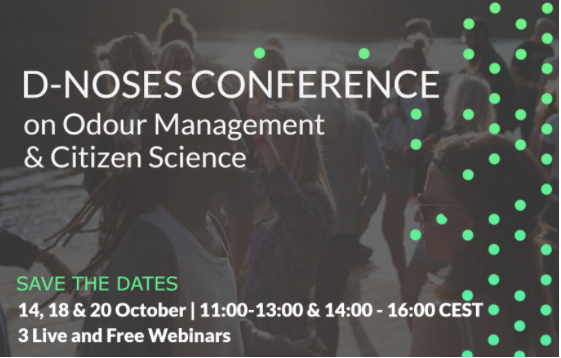 The D-NOSES journey, in which MIO-ECSDE was the advocacy partner, comes to an end in September 2021 after a full 3 years. This initiative was born from the lack of a unified proper response to odour issues and the need to fill in this perceived regulatory gap. It was created to empower citizens to join with other stakeholders and have a constructive debate, helping them to co-create compromise solutions that can satisfy the needs of all stakeholders.
In the course of the project, MIO-ECSDE assisted the partners to advocate at the national level and undertook advocacy actions at the European and Mediterranean levels in the effort to introduce odour pollution in policy agendas.
The virtual final D-NOSES conference will consist of three separate online webinars targeted at general, technical and policy interested audiences. Register here for any or all of the three D-NOSES webinars on the 14th, 18th and 20th of October.
You can watch here a video summarizing the work done, lessons learned and practical outcomes of the 3-year long project into improved odour management through citizen science and stakeholder engagement.
After the conference and on the 28th of October, D-NOSES and MIO-ECSDE are wrapping up their policy and advocacy actions by collaborating with the European Parliament Intergroup on "Climate Change, Biodiversity and Sustainable Development" in a special online event at the European Parliament that will discuss the need for a better overall policy on odour. You can register here.
The D-NOSES project has received funding from the European Union's Horizon 2020 research and innovation programme under Grant Agreement No. 789315.
Read in French here