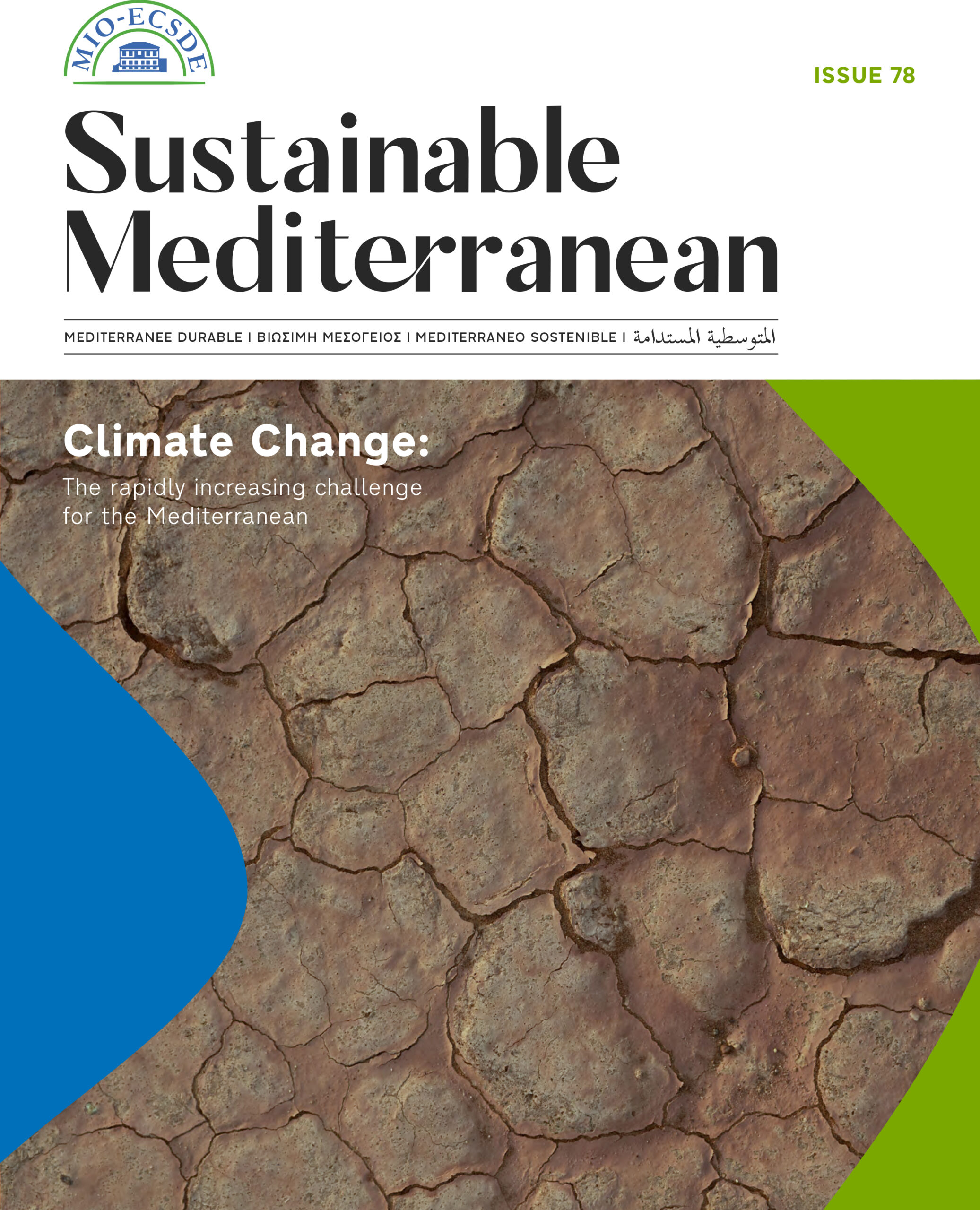 The Mediterranean region is a perfect example of an eco-region where strong, specific warnings related to climate change are loud and clear. A fact surely to be highlighted at all of the relevant forthcoming summits and global conferences such as the 2nd Ministerial Conference on Environment and Climate Action of the Union for the Mediterranean, COP 26 of the UN Framework Convention on Climate Change, and the UN Biodiversity Convention Meetings.
To mobilise governments and citizens, MIO-ECSDE has dedicated an issue of its journal Sustainable Mediterranean featuring contributions of more than 30 prominent Mediterranean actors. From major intergovernmental bodies (EU, UNEP/MAP, UfM, League of Arab States, UNESCO), Ministries of Environment of Cyprus, Greece, Jordan, and Italy (the leading actor in its role as co-president to the UK hosted COP 26), to key stakeholders working on climate change impacts on Mediterranean agriculture, cities, biosphere reserves, forests, irrigation, and the energy future of the region. How the private sector can be mobilised to help mitigation and adaptation strategies for climate change urgently needed in the region and what the role of civil society is to ensure a socially just and sustainable transition, also have their sections in the issue.
Edited by Ms Vanya Walker-Leigh, our Senior Climate Change Advisor, this publication contributes to the democratic dialogue around climate change, at the critical moment considered as a "turning point" for climate action by the international and Mediterranean community, as we have already reached +1.22°C!
In the words of Prof. Michael Scoullos, Chairman of MIO-ECSDE "Important policies are in place or in the pipeline and significant resources have been mobilized to tackle the climate challenge in the region, as it becomes evident from the present issue. But MIO-ECSDE would like to draw the attention of policy makers and all stakeholders, including its membership, the Circles it facilitates and the wider public, on three major, difficult open questions and issues, particularly relevant for the Mediterranean. These include controversies and policy inconsistencies that in our point of view require urgent and serious consideration, comprehensive study and transparent dialogue so as to be answered and resolved."
Find out what these are by reading the 78th issue of Sustainable Mediterranean.
https://mio-ecsde.org/wp-content/uploads/2021/07/Sustainable-Mediterranean-ISSUE-78_FINAL.pdf
Read in French here