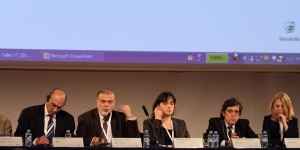 The IV Euro-Mediterranean Ministerial Conference on Water was held in Barcelona, Spain on 13 April 2010. In this Conference, following the agreements achieved in the Ministerial Conference in the Dead Sea Ministerial Conference in 2008, the "Long-Term Strategy for Water in the Mediterranean" was discussed.
Despite the fact that the 4th EuroMed Ministerial Conference on Water did not agree on the adoption of the Mediterranean Strategy for Water, civil society and NGOs in particularly were given the opportunity to present to the Ministers their relevant statement. Prof. Michael Scoullos, Chairman of MIO-ECSDE, read the statement on behalf of the NGOs present and also on behalf of the regional environmental organizations following the environmental component of the EuroMed/UfM process: EEB, RAED, WWF MedPO.
The statement was formally adopted by civil society representatives during a Civil Society Session entitled 'Civil Society views and recommendations for a more sustainable water management in the Mediterranean' organized by MIO-ECSDE jointly with the EEB, RAED and WWF MedPO, with the support of the Spanish EU Presidency. The Session took place in Barcelona on the 12th of April in the framework of the Open Technical Workshop entitled 'Water in the Mediterranean countries: problems and solutions'.
The Civil Society session was facilitated by Mr. Vangelis Constantianos (GWP-Med). It started with introductory remarks made by Prof. Michael Scoullos (MIO-ECSDE), Dr. Emad Adly (RAED) and Dr. Andreas Andreadakis (MED EUWI). A roundtable discussion followed and interventions were made by Mr. Joan Parpal (MEDCITIES), Ms. Elena Panaritis (Circle of Mediterranean Parliamentarians for Sustainable Development-COMPSUD), Ms. Angela Klauschen (WWF MEDPO) and Prof. Mohamed Ftouhi (Network of the Mediterranean Universities for Sustainable Development focusing on Education for Sustainable Development).
Concluding remarks were made by Prof. Michael Scoullos (MIO-ECSDE) and Mr. Juan Jose Moragues Terrades (President Jucar River Basin Organization, Ministry of Environment, Rural and Marine Affairs, Spain) and the final civil society statement was adopted. This Civil Society Meeting followed up on previous water related dialogues organized by MIO-ECSDE in the Dead Sea, 2-3 November 2008 and in Cairo, 1 November 2009 and aimed at providing a coordinated and effective input to the IV Euro-Mediterranean Ministerial Conference.
You can find the agenda of the meeting below: