Since its establishment in 1997, caring for the Environment has been one of the main objectives of the Makhzoumi Foundation. The Environment and Development Program, through its activities and projects, tackles 14 out of the 17 SDGs. It aims to improve the environment as a valuable asset and to focus on empowering women, children, and youth to reinforce their role as active and responsible citizens who affect change in their communities, leading the road towards sustainable development. To date, more than 50 environmental, agricultural and development partnership projects have been implemented. Below is a brief overview of some of the major activities that ran in 2021.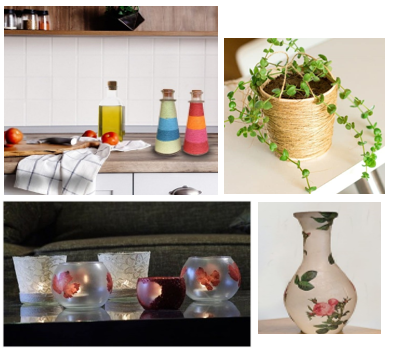 Agroforestry nursery aims to cultivate ornamental and fruit trees as well as herbs and roses in Akkar, North Lebanon, to be distributed to schools, universities, local NGOs, municipalities, and communities countrywide. It is implemented within the framework of a partnership project entitled "The Agroforestry Development Project of Degraded Lands of Lebanon" with three European NGOs: INARE & KEDE (from Greece) and TC Dialogue Foundation (from Belgium). To date, more than 1.2 million plants have been cultivated and distributed.
Yalla Nefroz (Let's Sort) was launched in 2016, after the waste crisis of 2015 in Lebanon. It aims to motivate the residents of the neighborhoods of the Foundation's centres in Beirut to sort their non-organic solid household wastes. The Foundation placed sorting bins in front of its centres, to gather and then transfer the collected waste for recycling. Later, this initiative expanded to other streets in Beirut, including paper collection, and a truck was deployed. Currently, there are more than 30 drop-off locations in Beirut, including pharmacies, schools, shops, local NGOs. From January and till the end of November 2021, 7.67 tons of non-organic waste (plastics, metal, paper, glass…) was collected from all the drop-off points in Beirut and transferred by the Yalla Nefroz truck to the Monte Verde Plant.
Organising craft workshops targeting women on up-cycling, combined with crafting. Examples of such workshops are Patchwork-Découpage-Papier Mâché-Artistic Sewing from remains of fabrics, baskets; Tray Decoration with remains of fabrics, lace, and clothes; Loom Weaving with remains of clothes, fabrics and plastic bags; Reusing and decorating solid waste (glass jars, trays, plates, boxes, etc.); Mosaics from the remains of broken glass, and much more.
"Handy by MF" initiative aims to empower women, especially the participants of the above craft workshops, by helping them market their handmade products online, at exhibitions, and in the souks. "Handy by MF" started its social media pages to promote products on Instagram and Facebook in early January 2021.
MF participated in the Clean up the Med campaign by holding an Art and Film Making contest for kids. Three winners were announced and received their prizes in October.
MF joined MIO-ECSDE's 2021 Mediterranean Action Day (MAD) on Ocean Literacy. The Foundation's MAD activity was one of the 21 that took place all around the Mediterranean. It was implemented in cooperation with the National Commission of UNESCO in Lebanon. The main objective of this action was to raise awareness on the seven principles of ocean literacy, highlight the impact of human activity on marine health, and develop solutions to reverse the problem and maintain a sustainable balance on the use of marine resources. It included organizing a nationwide contest related to ocean literacy by engaging youth aged 15-24 from high schools (public and private), as well as individuals, in various activities highlighting the seven principles of ocean literacy through creative and artistic means.
Training on Beekeeping Skills and Environmental Arts and Crafts in the Bekaa and Greater Beirut areas: Funded by the Lutheran World Relief (LWR), the project aimed at empowering Iraqi, Syrian and Lebanese women and youth in the Greater Beirut and the Bekaa regions through providing them with business and income-generating skills.
Read in French here