MIO-ECSDE Member Organization, the Lebanese Environment Forum (LEF), together with the Lebanese Eco Movement (LEM) have received an EU grant to work on combating marine pollution in the Mediterranean Sea, with emphasis on plastics. As part of the project "Lebanese civil society combating for a plastic-free Mediterranean Sea", LEM and LEF provided small grants to 21 initiatives spread out along the Lebanese shoreline.
The 21 initiatives are very wide-ranging covering the impacts of plastic pollution on marine biodiversity, as well as on key sectors such as the fishing industry and tourism, through improving the existing regulatory frameworks, building the awareness of citizens and professionals, and financially supporting local initiatives of community-based organizations, associations, universities and start-ups.
The 21 awarded organisations and initiatives are: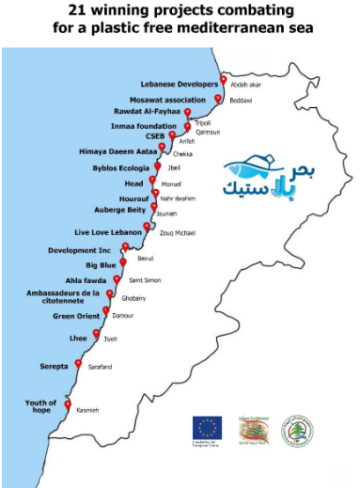 Comité de Sauvegarde de l'Environnement de Bsharre – CSEB: "Saving Our Salt" project aiming at protecting Salinas in Anfeh from microplastics.
Ahla Fawda Association: tackling plastic pollution on Saint Simon Beach.
Development Inc. SAL in partnership with the American University of Beirut: a project to upcycle plastics and glass into furniture, using ROGP technology for public spaces in Ras Beirut.
Operation Big Blue Association: a project to establish Beach school and Blue Police at Ramlet El Bayda.
Youth of Hope Association: Boat on the river project to clean Qasmieh river from plastic and debris.
Serepta Association: project for a plastic-free beach and sea in Sarafand.
Ambassadors of Citizenship: an initiative called Bi'ati Bayti for communal composting and recycling.
Inmaa Foundation in partnership with Jarrah Scouts: tackling plastic pollution on the coast of Qalmoun.
Live Love Lebanon: National cleanup program: Coastal edition in different Lebanese coastal regions.
Lebanese House Establishment for Environment – LHEE: engaging the public and the community to change behaviors on plastics.
Mosawat NGO: reducing single-use plastics to protect the Beddawi Sea.
Human Environmental Association for Development – HEAD: recycling plastic in Monsef and Fidar.
Vamos Todos NGO: reducing coastal plastic pollution in Tyre.
Himaya Daeem Aataa HAD Association: targeting the coastal area of Chekka to be clean and free from plastic litter and solid waste.
Lebanese Developers Association: relieve the sea and coastal shore of Abdeh in Akkar from abandoned fishnets.
Green Orient Association in partnership with Beam Association: reducing the production of plastic waste on the coast of Naameh and Damour.
Green Southerners NGO in partnership with Aaraya Environmental Association: changing behavior and engaging the public in cleaning up beaches and preserving the shore of Abbasieh.
Al Hourouf Association: project for turning plastics into materials used for construction in the Nahr Ibrahim coastal area.
Rawda Al-Fayhaa High School Alumni Association: a project to reduce, reuse, and recycle plastic waste and turn them into artistic pieces for Tripoli streets with the participation of school students.
Auberge Beity Association: a project that aims to improve management and treatment of plastic garbage in 20 touristic resorts located on Jounieh beaches.
Byblos Ecologia NGO: a project to reduce marine debris, including ghost fishing nets from shorelines, seabed, and sea surface and encourage innovative up-cycling of plastic waste in cooperation with fishermen, divers, and the local community in the coasts of Jbeil, Nahr Ibrahim, Amchit, Oqaiibe, and Kafraabida.
Read in French here