Due to the basin shape and the high demographic pressure of the surrounding countries, the Adriatic Sea can be considered at risk for the amount of marine litter that enters the marine waters both from land and sea activities. For this reason, and within the framework of the IPA Adriatic funded DeFishGear project, MIO-ECSDE and the Accademia del Leviatano have undertaken a year-long monitoring action on the abundance, composition and distribution of marine macrolitter (items greater than 20cm) that floats in high sea waters between the Adriatic and the Ionian sea. According to Dr. Thomais Vlachogianni, MIO-ECSDE Programme Officer, "the project will set up an important baseline on the quantity of macrolitter present in the Adriatic. Systematic monitoring in the coming years will allow to assess whether the programmes of measures undertaken by the Adriatic countries will be successful in reducing waste ending up in the sea".
Macrolitter can fragment into smaller parts, becoming microlitter, which can be ingested by a large variety of organisms, with potential adverse effects that vary from physical damage of their digestive tract to toxic effects from inherent contaminants leaching from microplastics, or extraneous pollutants adhered to microplastics. Macrolitter can impact marine life, including cetacean and turtles as these animals can be entangled or can ingest floating plastic. Dr. Luca Marini, one of the researchers involved in the project, declares how "the conjunct monitoring of floating plastic and marine life distribution can help in identifying areas were the impact could be higher; marine turtles and cetaceans present in the region are all protected under the Habitats Directive and it is important to report not only on the range and the population but also on possible threats". Monitoring was done from ferries allowing the researchers to repeatedly sample high sea areas, which are usually difficult to reach with smaller vessels. The litter monitoring protocol from ferries has been specifically developed by an international network that monitors in the Mediterranean Sea cetaceans and their associated threats (FLT Med Monitoring Network), while the litter items categories have been recorded in accordance with the DeFishGear floating litter monitoring protocol.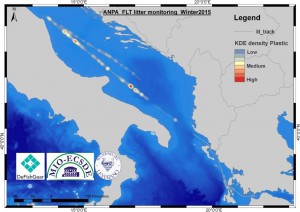 Winter results, based on more than 2.800 km of survey tracks, showed that in the investigated area the number of floating items per square Km is 3.8 in the Adriatic Sea and 2.5 in the Ionian Sea. Plastic accounts for more than 87% of the items. The most common litter categories detected are plastic bags, bottles and polystyrene boxes, the latter ones presumably coming from fishing boats; also ghost nets, like net and lines, were recorded several times.
The research is still undergoing and summer surveys will allow assessing whether during the touristic peak season litter abundance increases.
For more info contact: Thomais Vlachogianni, vlachogianni(at)mio-ecsde.org