The SWIM-H2020 SM Project, funded by the European Union, aims to contribute to reduced marine pollution and a sustainable use of scarce water resources in the Mediterranean Region with emphasis on the countries of North Africa and the Middle East (Algeria, Egypt, Israel, Jordan, Lebanon, Libya, Morocco, Palestine, [Syria] and Tunisia). The Project is the continuation and merging of two successful previous EU-funded service contracts, Horizon 2020 Capacity Building/Mediterranean Environment Programme (H2020 CB/MEP) (2009-2014) and the Sustainable Water Integrated Management Support Mechanism (SWIM SM) (2010-2015).  MIO-ECSDE is a key partner in the Consortium that will implement the new phase of the SWIM-H2020 SM Project (Member network RAED is also a partner).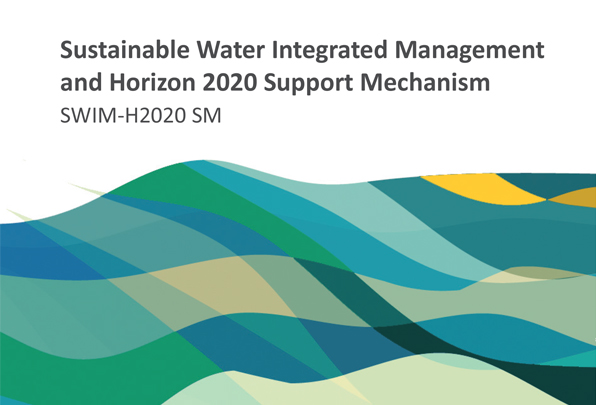 Level of completion

100%

100%
The environmental problems of the Mediterranean are many, complex and interlinked. Uncontrolled coastal development, population growth, increasing tourism, loss of biodiversity and environmental pollution stemming from the above and from poor management of municipal waste, urban wastewater and industrial emissions, including their respective pressures to the quantitative and qualitative characteristics of surface and groundwater resources ending up in the Mediterranean, constitute major pressures on its marine and coastal environment. Their impact is particularly reflected in the land-sea interface, the coastal zone.  In addition, economic and social crises, high refugee flows, in combination with climate variability and change have made it more difficult to deal with the accumulated problems. Renewed efforts to address the challenges are made within the SWIM-H2020 SM Project (Sustainable Water Integrated Management and Horizon 2020 Support Mechanism 2016-2019) jointly by the Mediterranean countries and the European Union.
Provide tailored and targeted technical assistance at national level based on partners' requests through an Expert Facility;
Organize regional (or sub-regional) peer-to-peer seminars and webinars;
Conduct on-site training courses and study tours;
Capitalize on the lessons learnt, good practices and success stories;
Support the Horizon 2020 Initiative's governance mechanism and the work of the Union for the Mediterranean's Water Experts Group.
The SWIM-H2020 SM is structured around some key "vertical" and "horizontal" themes as depicted in the figure.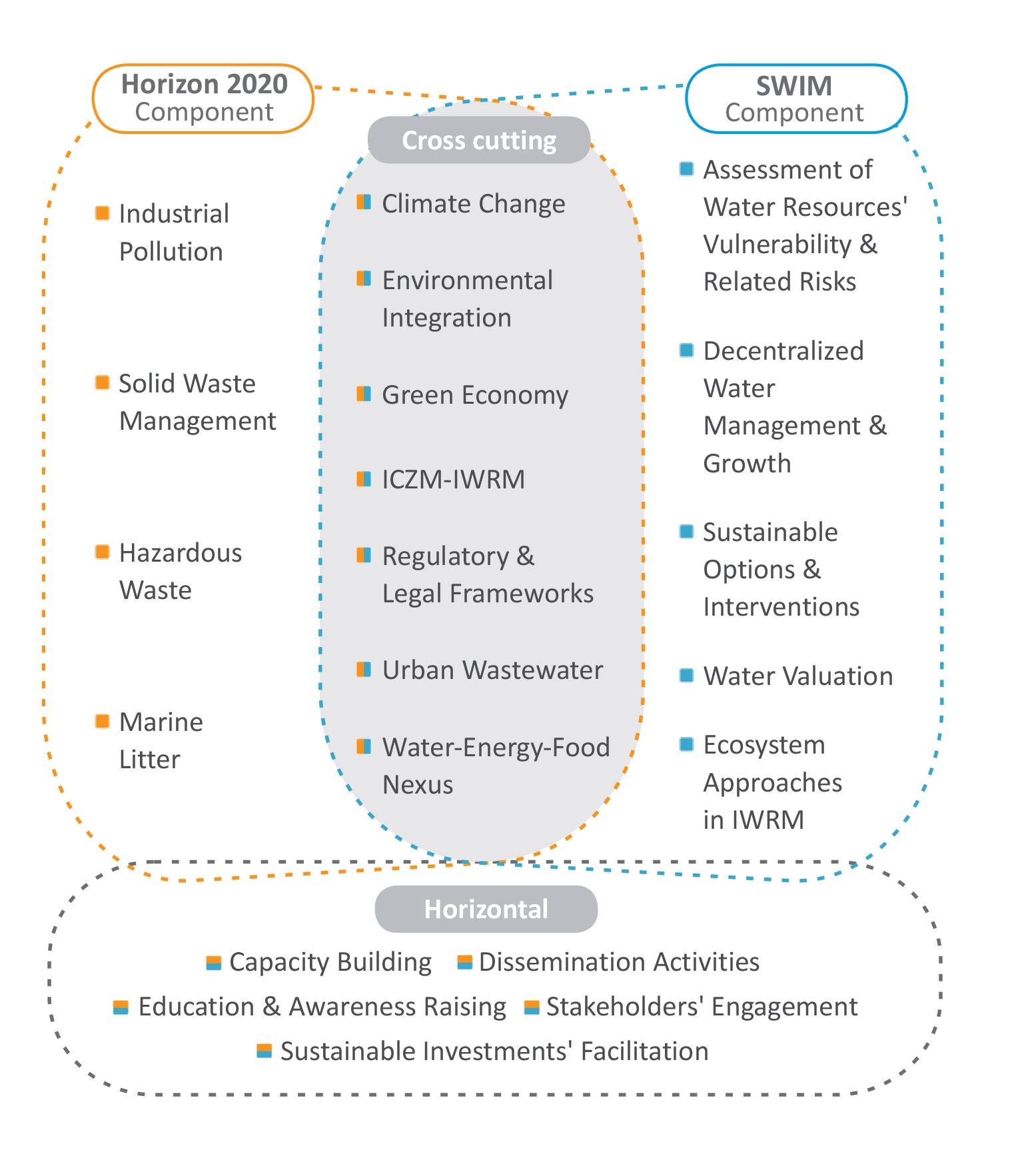 Positive changes in the design and implementation of the relevant national institutional, policy and regulatory frameworks;
Enhancement of partner countries' capacity to promote investment and business opportunities for properly managing municipal waste, industrial emissions and waste water;
Facilitation of access to finance for selected sustainable investment projects;
Strengthening of regional coherence and cooperation in approaches to marine pollution prevention and control, and sustainable water management;
Identification, testing and sharing of best practices and success stories;
Use of research results in policy making – enhancement of more sustainable practices.
Partner countries:
Algeria, Egypt, Israel, Jordan, Lebanon, Libya, Morocco, Palestine, [Syria], Tunisia. Participation of Albania, Bosnia Herzegovina, Mauritania, Montenegro and Turkey in regional activities will be considered.
 Contracting Authority: Directorate-General for Neighborhood and Enlargement Negotiations (DG NEAR)
SWIM-H2020 SM Team: Mr. Stavros Damianidis – Project Director, Prof. Michael Scoullos -Team Leader, Mr. Anis Ismail-Environment Expert, Mrs. Suzan Taha – Water Expert
Implementing Consortium:
LDK Consultants Engineers and Planners S.A, Greece (the lead company)
Arab Countries Utilities Association (ACWUA), Jordan
Arab Network for Environment and Development (RAED), Egypt
Association of Cities & Regions for Recycling and Sustainable Resource Management (ACR+), Belgium
Catalan Waste Agency (hosting institution of Regional Activity Centre for Sustainable Consumption and Production (SCP/RAC)), Spain
EEIG UT-SEMIDE, France
GLOBE ONE LTD, Greece
Haskoning DHV Nederland B.V, Netherlands
LDK Consultants Europe S.A, Belgium
Mediterranean Information Office for Environment, Culture and Sustainable Development (MIO-ECSDE), Greece
Milieu Ltd, Belgium
National and Kapodistrian University of Athens, Greece
Umweltbundesamt GmBH, Austria
WS Atkins International Ltd, United Kingdom
Title:
Sustainable Water Integrated Management and Horizon 2020 Support Mechanism 2016-2019
Contracting Authority: Directorate-General for Neighborhood and Enlargement Negotiations (DG NEAR)
Duration: 36 months (2016-2019)
Budget: 6.286.000 Euros