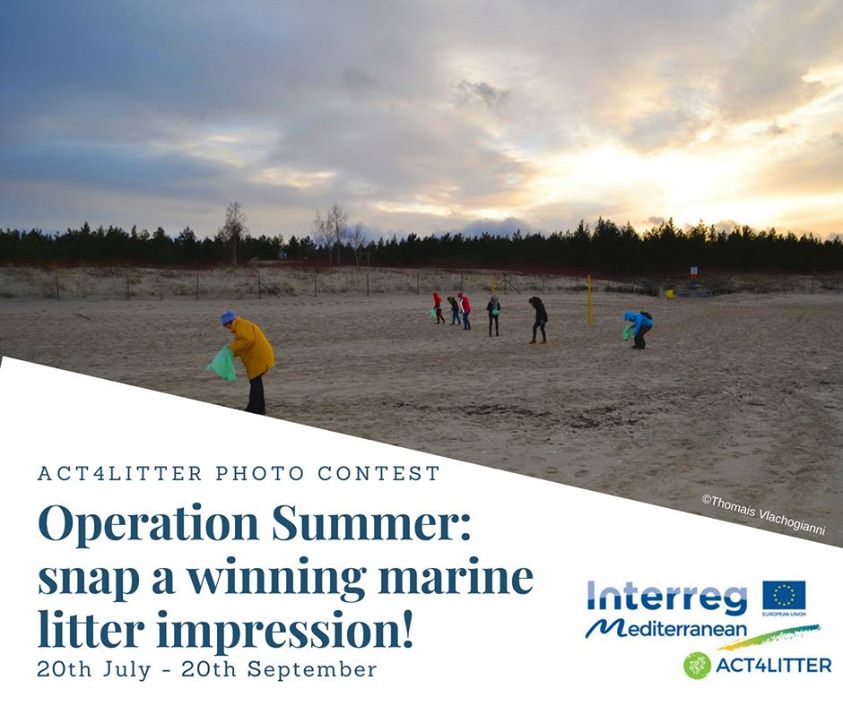 Today ACT4LITTER is excited to launch a two-month photo contest entitled "Operation Summer: snap a winning marine litter impression!"
Open your eyes, grab your camera and unleash your creative soul! Capture a stunning snap of pristine or littered seascapes, marine litter solutions, underwater scenes, impacted marine wildlife…and enter the contest!
We will be accepting submissions from now until the 20th of September 2018. This contest is open to the public and free to enter, so feel free to invite your fellow friends and ocean-lovers to participate.
And don't forget to follow us on Facebook and Twitter—we'll be sharing some of our favourite entries throughout the contest!
The winning pictures will be featured in the ACT4LITTER final publication, in the ACT4LITTER social media and the final ACT4LITTER conference to be held in Athens, Greece on the 24th of October 2018.
To enter the contest, submit your picture to ACT4LITTER via e-mail at lucille.guiheneuf@scprac.org. You must put in the subject line "ACT4LITTER Photo Contest" and include the following details:
Name of copyright owner, including how the image should be credited;
Caption for the photo, including the subject of the image;
The location where the photo was taken.
To ensure eligibility for the Contest each entry should submit the highest quality photo possible – ideally 300 dpi (2550 pixels wide by 3300 pixels tall), with a minimum of 150 dpi (1275 pixels wide by 1650 pixels tall). Images should be between 5MB and 10MB in size.
By participating or attempting to participate in the contest, you are deemed to have received, understood, and agreed with the following rules and regulations:
The person submitting the picture must be the person who actually took the picture;
All pictures must be able to supply a high resolution image;
All contest photos will be published online and will be shared in an online photo album;
All winning photos will be properly credited and will be featured in the aforementioned ACT4LITTER deliverables;
The ACT4LITTER panel of judges and their decision will be final and no correspondence will be entered into;
Images may be digitally manipulated. You must however provide details on how your image has been altered.
*Children 18 and under must have their parents' or legal guardian's permission to participate.