Check out the new European Nature Protection Toolkit. Available online, it's designed to support educators, facilitators and site managers looking for creative educational resources to engage students in environmental conservation and preservation of European wildlife and natural habitats.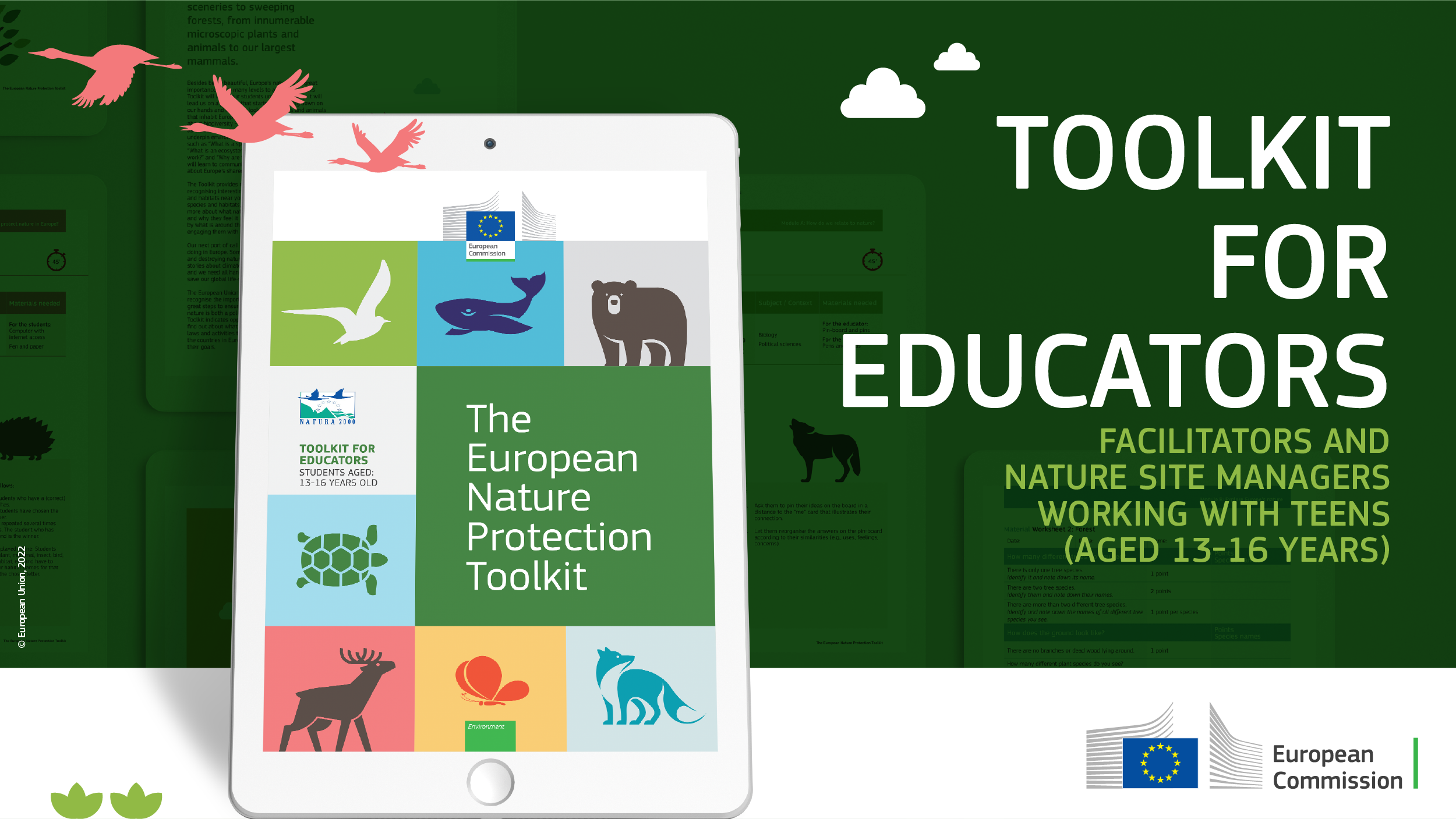 There are so many benefits to connecting teenagers with the natural world and encouraging them to learn about the environment, animals and plants in their neighbourhoods and beyond – from stunning mountains and sweeping forests to microscopic plants and animals to some of our largest mammals. With this in mind, the new toolkit is a 'one-stop shop' for nature and conservation education.
Designed for students aged 13-16, the toolkit is organised around four modules: (1) How do we relate to nature? (2) Explore Europe's nature. (3) How do we protect nature in Europe? (4) Engaging in nature protection.
The toolkit also includes lesson plans with ready-to-use materials and activities. It provides resources for finding and recognising plants, animals and habitats near the students. In addition to studying the nature around them, students will also learn about issues related to nature in Europe, delving into concerns like loss of biodiversity and what can be done about it.
What's unique about this toolkit is that it enables educators to organise learning out of the classroom – at the neighbourhood park or in local woodlands. The activities can be flexibly adapted to specific contexts and needs both inside and outside of school settings, for instance in centres for environmental education or national parks. By keeping the required equipment and resources to a minimum, it's easy to integrate the four modules into any classroom curricula.
The toolkit includes a section packed with additional information and key concepts, as well as a list of references and resources to support educators in setting up and running the activities.
By encouraging students to spend time connecting with nature, the overall aim of the toolkit is to improve their understanding of nature and biodiversity. They are also empowered to become proactive contributors to a more sustainable world by researching the reasons Europe's nature is important and why it's under threat. In addition, students learn about the legal framework for nature conservation in Europe and how the European Commission and the EU member states work to protect nature in the frame of the EU Nature Directives and the Natura 2000 network of protected areas.
The toolkit, which is available in 22 languages, was developed by adelphi in partnership with ATECMA, MIO-ECSDE and Netcompany-Intrasoft, for the European Commission.
Read in French here