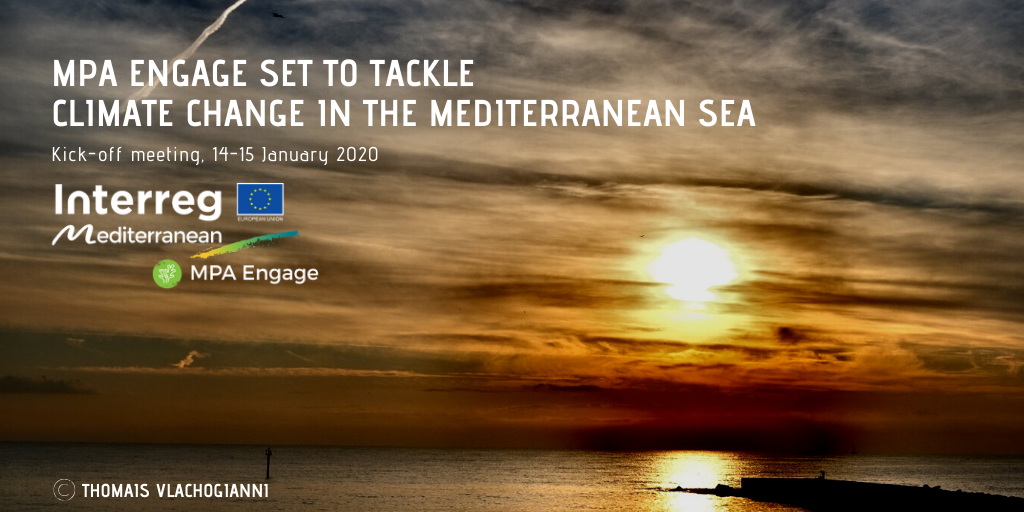 The Mediterranean Sea is one of the worst-affected areas by climate change in the world since warming occurs at a rate 20% faster than the world's average. Marine Protected Areas, despite the nature-based solution they offer to support efforts towards climate change adaptation and mitigation, are the first ones to feel the climate change effects.
On January 14 and 15, 2020 the Institute of Marine Sciences in Barcelona, Spain hosted the kick-off meeting of the project "MPA Engage: Engaging Mediterranean key actors in Ecosystem Approach to manage Marine Protected Areas to face Climate Change" funded by the Interreg MED program with a budget of 3 million euros. MPA Engage aims primarily to support MPA managers to adapt to and mitigate the ongoing climate change effects in the Mediterranean Sea.
Through a participatory approach, MPA-Engage will monitor in a harmonized way the climate change impacts, will elaborate vulnerability assessments and will develop climate change adaptation action plans in 7 Marine Protected Areas located in 6 Mediterranean countries.
MPA Engage is led by the Institute of Marine Sciences of the Spanish National Research Council. MIO-ECSDE is one of the key partners of the project leading the capitalization activities and the elaboration of adaptation plans to climate change. Among the partners are also: local and regional authorities such as the Department of Territory and Sustainability of the Government of Catalonia, the Regional Government of Liguria; research institutions such as the Zoological Station of Anton Dohrn, the Polytechnic University of Marche and Future Oceans Lab – University of Vigo), the Management Bodies of 7 Marine Protected Areas (Spain, France, Italy, Croatia, Albania and Greece); and non-governmental organizations such as the Low Impact Fishers of Europe, and the Diving Alert Network Foundation.
MPA Engage will be carried out over a period of 3 years (November 2019-June 2022) and its main lines of action will focus on:
Engaging local communities, small-scale fishermen and citizen scientists in monitoring climate change impacts
Promoting MPAs as nature-based solutions for climate change adaptation
Facilitating a Mediterranean policy dialogue with scientists, MPA managers, decision-makers, environmental NGOs and socio-economic stakeholders.
The Project outcomes will provide a framework for guiding regional actions on climate change.
Stay tuned: you will hear more from MPA Engage in the near future!
Twitter @MPAengage
Hashtag #MPAENGAGE