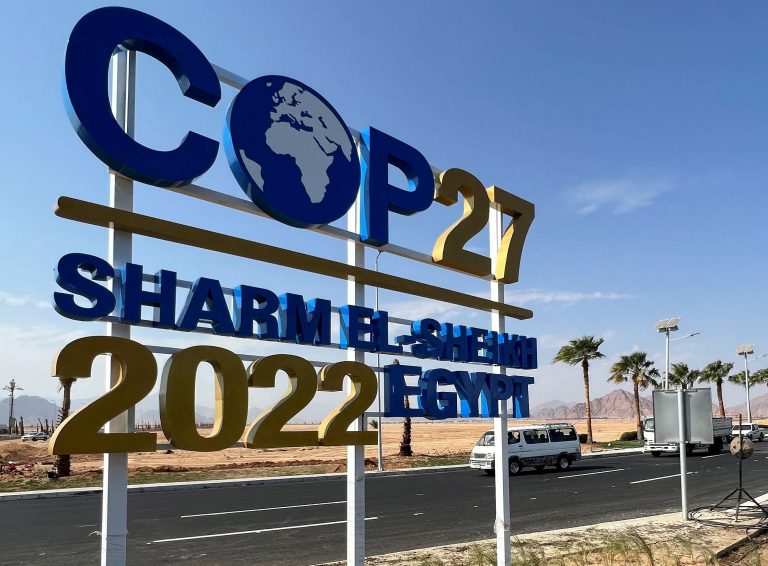 After more than two weeks of negotiations, the highly awaited United Nations Framework Convention on Climate Change Conference 2022 (COP27) wrapped up on Sunday 20 November, in Sharm el Sheikh, Egypt.
Representatives from almost 200 countries reached an agreement greeted as a landmark deal on a "new" funding arrangement to help vulnerable countries cope with the devastating impacts of global warming, an issue known as "loss and damage". Annually, US$100 billion will be provided as compensation from wealthy to developing countries. Adapting to the climate crisis requires from building sea walls to reforming the current agricultural system and could cost developing countries anywhere from US$160-US$340 billion, annually, by 2030.
The vital role of good water management for increasing climate resilience was reflected officially for the first time in the COP27 outcome document, which recognises that water systems have a critical role to play in delivering climate adaptation benefits and urges parties to further integrate water into their adaptation efforts.
However, pledges failed to push ambition further on progressing over the 1.5 Paris Agreement goal or cutting emissions with a weaker version of the language around coal and fossil fuel subsidies than we got in COP26 last year.
Such outcomes are of particular importance for the Mediterranean, a climate change hotspot. Many countries in the region are facing a worsening onslaught of weather extremes and the latest Emissions Gap Report warns that global temperatures can reach 2.4 to 2.8°C above pre-industrial levels by the end of the century, for conditional and unconditional pledges respectively.
Even though the COP27 Presidency was internationally criticized for the limited space given to civil society, MIO-ECSDE participated on-site through its Chairperson Prof. Michael Scoullos, but also remotely, in this year's COP by emphasizing issues and prerequisites for the sustainable development of the Mediterranean under a changing climate and signaling that the fight against the climate crisis remains complex, is underdelivering and needs all-hands-on-deck.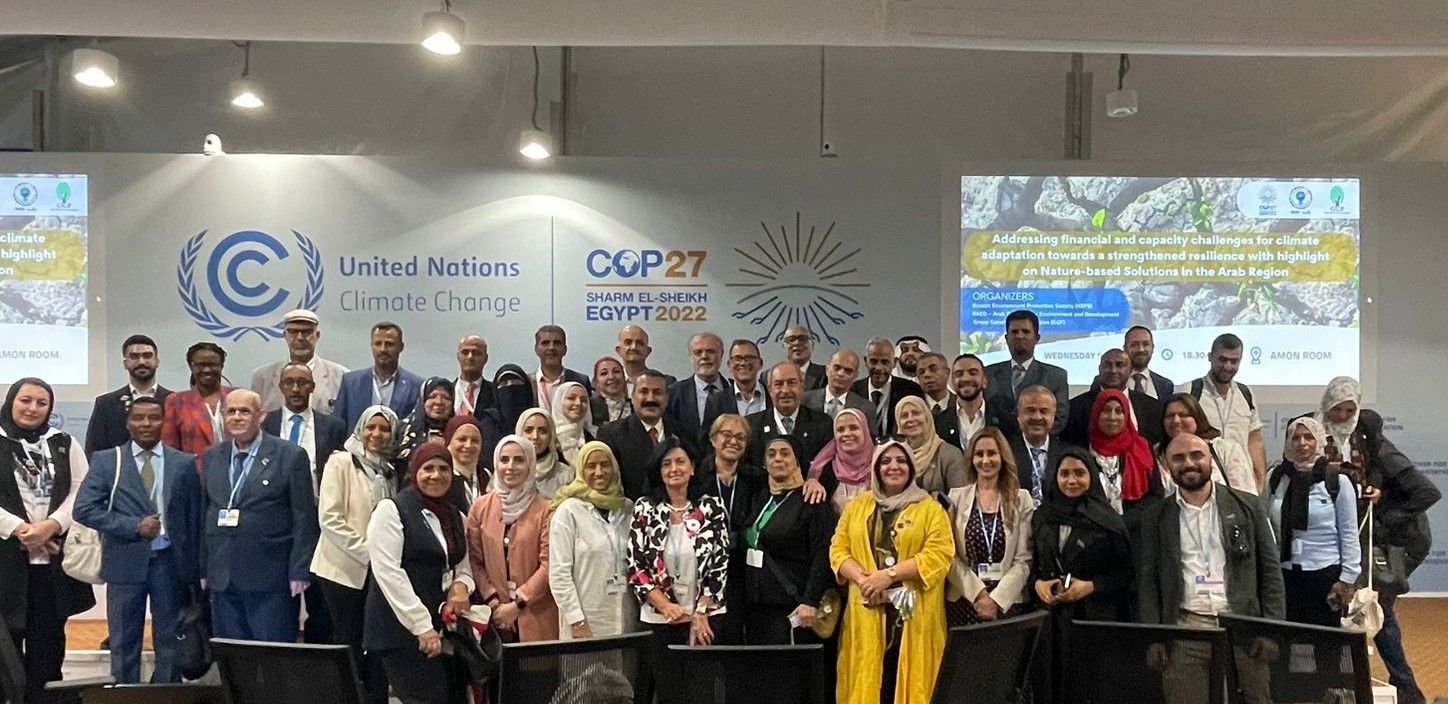 Overall, our closer look at the other key takeaways from the conference and what they could mean for the future of climate negotiations observes a huge political mobilization trying to sustain a necessary level of optimism and facilitating the ongoing transition to a green economy. Climate finance was, as expected, front and center at the COP27 discussions. The final agreement highlights that "US$4 to $6 trillion a year needs to be invested in renewable energy until 2030 – including investments in technology and infrastructure – to allow us to reach net-zero emissions by 2050." Civil society is now, more than ever, necessary to tackle the escalating climate and environmental crisis by boosting policies towards the right direction and making sure that no one is left behind during the acceleration of the green transition and transparency in economic transactions will not become blurry.
Some breakthrough moments for the region during COP 27 were: the announcement of the creation of the Blue Mediterranean Partnership, which aims to support the development of a sustainable blue economy in the European Union's Southern Neighbourhood countries, announced by the European Bank for Reconstruction and Development (EBRD), the European Investment Bank (EIB) and the UfM; the agreement between Jerusalem and Amman to partner in the ecological restoration and sustainable development of the Jordan River; and the strategic partnership on renewable hydrogen between the EU and Egypt.
Over the two weeks of COP27, MIO-ECSDE actively participated in more than 10 sessions. Here are some of the highlights:
There is growing momentum behind climate education in the Mediterranean
Education, and specifically Education for Sustainable Development (ESD), is uniquely placed to transform individuals and societies through climate change education and its principles.
On November 10th, Prof. Scoullos and Dr. Zachariou, Head of the Unit of Education for Environment and Sustainable Development at the Cyprus Pedagogical Institute, presented the work of the Task Force on "Climate Change in the EMME region: Education and Outreach" during the side-event of RAED, Virginia Tech and UM5R. The aim of this work is to identify the trends, commonalities and gaps of Climate Change Education (CCE) in the EMME region and to help the countries of the region to develop synergies and collaborate to accelerate and integrate CCE into their educational policies and systems.
ESD and the role of partnerships of governments, academia, civil society networks and citizens for the design, development and implementation of climate change education in the Mediterranean through the use of existing structures and opportunities, were some of the main themes of MIO-ECSDE's interventions in the side-events on Climate Change Education (11 November), and on Universities as key solutions providers: Leveraging our local and global networks for innovation (17 November).
The biodiversity and climate crises are strongly interlinked and should be addressed together
Conservation of Mediterranean Sea ecosystems under the climate crisis is a challenging issue that requires adaptive solutions in a sea facing fast tropicalization. Prof. Scoullos presented empirical recommendations from local fishermen, during the side event on Conservation of Mediterranean Sea ecosystems under the climate crisis: challenges and adaptive solutions in a sea facing fast tropicalization (14 November), based on MIO-ECSDE's and MEdIES's recent survey to address the aggressive and ongoing invasion of Lagocephalus, one of the fastest expanding invasive species in the Mediterranean due to climate change.
MIO-ECSDE further highlighted research findings on the interlinkages of marine litter and climate change and their combined risks to biodiversity during the Interreg MED Biodiversity Protection Community event "Mediterranean biodiversity challenges: acting against marine litter" on November, 16.
"Extreme weather such as floods and storms will lead to increased inputs of litter into the marine environment. Rising temperatures also enhance the breakdown of litter in microplastics and facilitate the spread of invasive alien species" said Dr. Thomais Vlachogianni during her keynote speech. "Invasive alien species are one of the most important pressures to biodiversity in the Mediterranean" Dr. Vlachogianni pointed out. "Indeed, plastics persist for a very long time and therefore have a much greater potential of carrying organisms across seas and oceans compared to driftwood and natural materials", she remarked.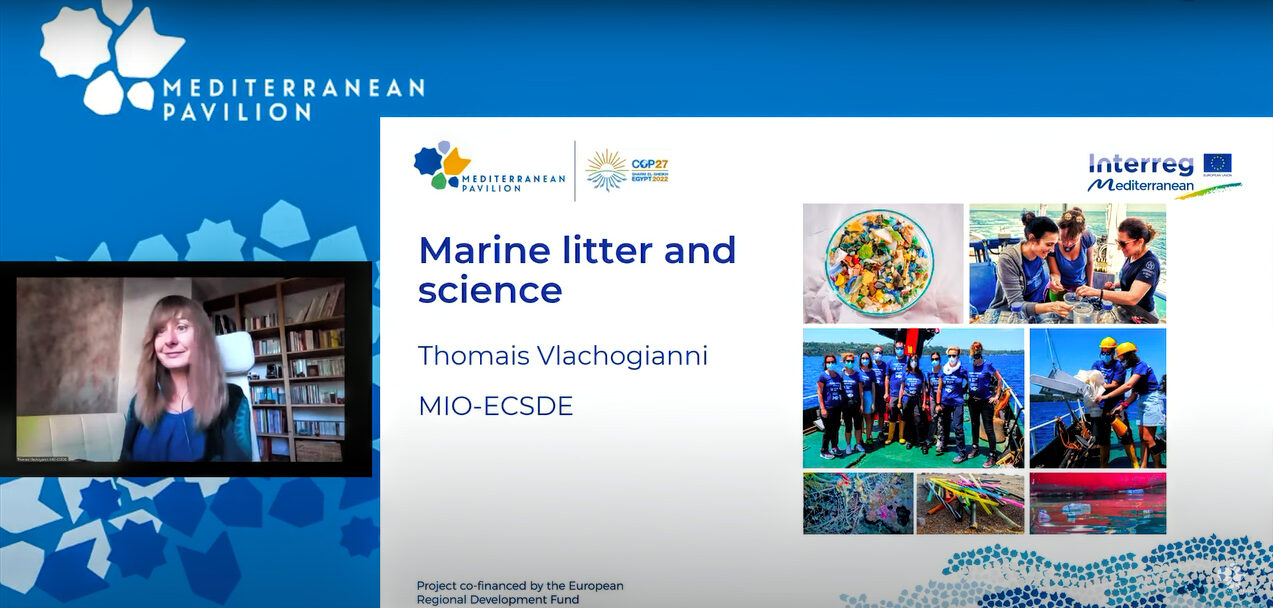 Unlocking the Mediterranean potential for a Sustainable Blue Economy (SBE)
In the Mediterranean region, maritime activities are key components of the regional economy and generate at least US$450 billion a year. The UfM side event Sustainable Blue Economy in the Mediterranean – A rising tide which lifts all boats facilitated by Alessandra Sensi on the 17th of November, brought together a small but exemplary representation of the large and dynamic Mediterranean SBE Community to highlight key initiatives and projects relevant to capacity building, research, innovation, investments, and private sector. Among them, Prof. Scoullos presented how MIO-ECSDE in synergy with its members and other partners addresses the issue through a set of key interrelated interventions and approaches linking SBE with MPAs, marine litter, citizen science, pollution, food and education.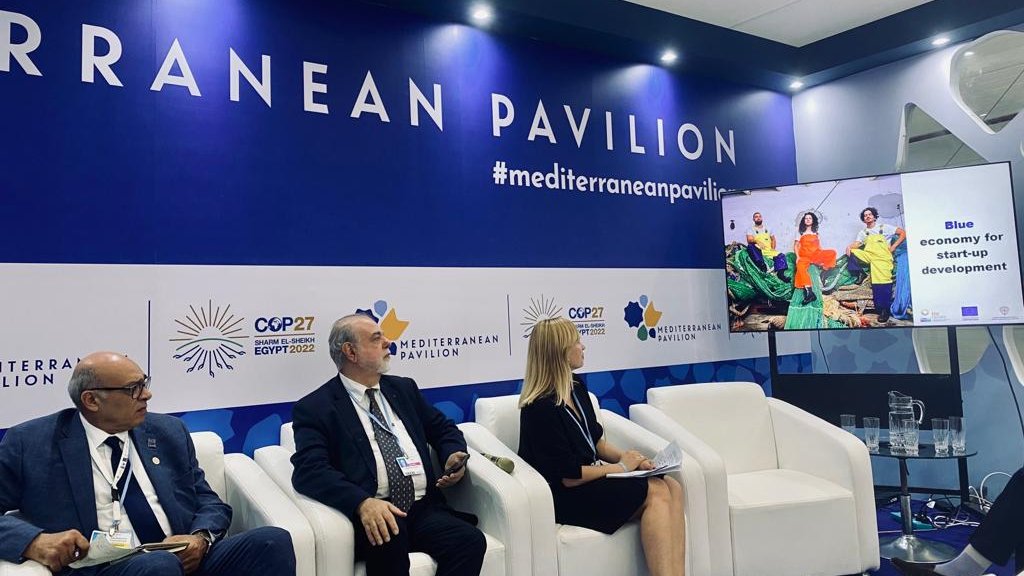 MIO-ECSDE SBE initiatives were further promoted during other Mediterranean Pavilion side-events such as those on Mediterranean efforts to reduce ship air pollution (15 November) and Climate Resilient Tourism in the Mediterranean through Water-Energy-Food-Ecosystem Nexus: Shifting the Paradigm (16 November).
Climate change, population growth and unsustainable food systems are threatening the region
On November 12, the Adaptation, Agriculture & Food Systems Day of COP27, at the Change and Healthy Diets – What will we be eating in the future? side-event, organized by the International Fund for Agricultural Development (IFAD) the climate change impacts on nutrition through decreased food quantity, quality and diversity of food were discussed. In its intervention, MIO-ECSDE talked about how the Mediterranean diet could be in essence considered as a climate change adaptation strategy with low carbon emissions and low energy and water requirement, stressing that we must safeguard traditional, rainfed agriculture as it is to a large extent olive trees.
Read in French here