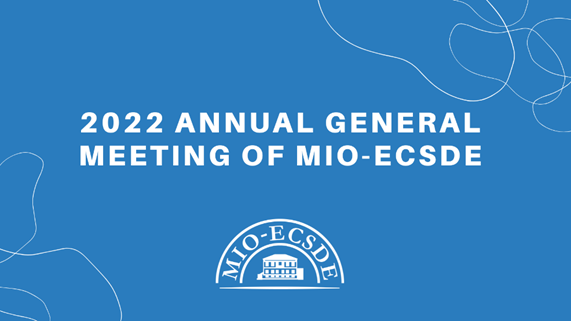 Ending a critical year for environmental governance, marked by two major global summits on climate change and biodiversity, the 27th Annual General Meeting (AGM) of MIO-ECSDE was held on the 22nd of December 2022.
The (virtually) assembled member organisations unanimously approved a series of key documents regarding the 2022 progress of the Federation and 2023 activity and financial planning. Members also shared their major highlights. The persistent impacts of the COVID-19 pandemic and the energy and food crisis coupled with the visible effects of climate change in the world and our region, were only some of the complex issues that were discussed.
Despite the changes in MIO-ECSDE's operational funding (not supported by the EU LIFE Programme in the 2022-2024 period), the regional influence of the Federation has not been compromised. By embarking on new exciting initiatives and successfully finalizing other international projects, MIO-ECSDE has demonstrated this year that it is capable to deliver as much or even more. The Secretariat, Executive Bureau and active Membership had a key role to play in this and their hard work and commitment were repeatedly praised. However, risks and challenges remain for 2023 onwards and need to be addressed head-on.
Some of the MIO-ECSDE highlights from 2022 presented, were the Plastic Busters MPAs closing conference and deliverables, the successful organization of the 38 side-events within the 9th 'Environment for Europe' Conference, the development of the policy paper on the Mediterranean's transition to wind energy, just to name a few out of the Report of Activities that was approved by the Membership.
The Marine Educational Centre Pula (MEC Pula) based in Croatia, was a new Full Member applicant that was unanimously approved by the Federation.
The AGM closed with the elections for those members of the Executive Bureau whose 2-year term has come to an end. The constitution of the Executive Bureau for 2023 can be seen here.


From all of us at MIO-ECSDE, our very best wishes for 2023!
Read in French here