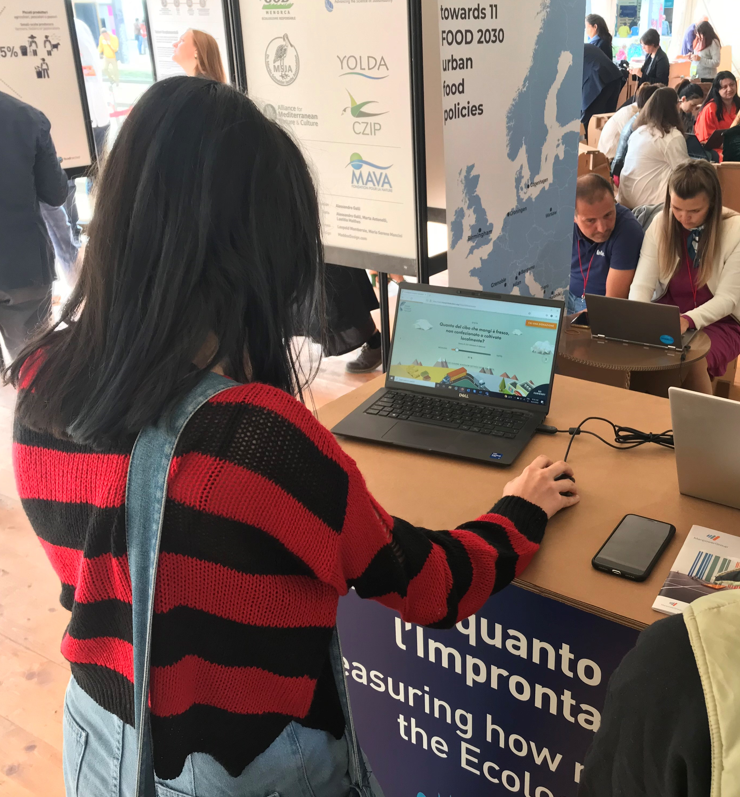 Global Footprint Network (GFN), a member of MIO-ECSDE and one of the partners of the Foodnected project, co-organized three side events at the Terra Madre Salone del Gusto in Turin that took place from 22 to 26 September 2022.
Foodnected is a project funded by MAVA Foundation aiming to reconnect people and nature around fair and sustainable food systems. Terra Madre Salone del Gusto is an international gastronomy exhibition that is hosted by Slow Food and is organized every two years in Turin, Italy, bringing together food producers and artisans from across the world. It is composed of a large market and other activities including workshops, forums, workshops, tastings, and cooking lessons. Terra Madre Salone del Gusto 2022 featured 600 exhibitors and a series of workshops, conferences, and tastings that demonstrated how the planet can be regenerated through food.
The three events co-organized by Global Footprint Network were entitled: Communities of best practices, Measuring how much we take from nature: the ecological footprint of food, and A platform to discover the footprint of our food.
The events' participants explored the link between food systems and sustainability, calculated their personal Ecological Footprints, learned how communities of best practice can support small-scale producers, and were among the first to experience the new Food Footprint Platform.
As food systems contribute to about 37% of the current GHGs emissions, these events offered a way to understand the role that alternative food systems could have in reversing the current unsustainable trends that characterize the Mediterranean region, thus providing an important contribution toward addressing climate change.
Read in French here