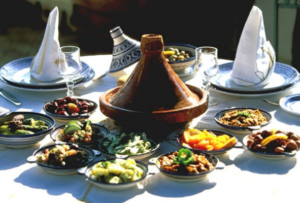 The Mediterranean diet is included in the UNESCO List of the Intangible Cultural Heritage of Humanity. More than just food, it promotes social interaction, as communal meals are the cornerstone of social customs and festive events. As a "product" of the interchange among cultures and landscapes, it has always worked as a bridge that connects and inspires people. However, most of the available educational resources focus on health aspects, leaving out the huge potential for inspiring sustainability and intercultural dialogue.
In Morocco, traditional foods like Tarda or tambsalt, that are still known today, promote the concept of preserving food resources; the remainders of the week's foods are transformed into meals, and instead of discarding them, families are gathered around the table.
To raise awareness on Mediterranean food products and diet, with emphasis on Moroccan food and related customs, the Moroccan Club for Environment and Development (CMED), in collaboration with MIO-ECSDE and with the support of the Anna Lindh Foundation, organized in November 2021 an on-line scientific seminar to discuss the prospects for promoting Intercultural Dialogue through deeper understanding of Mediterranean food. It took place in the framework of the SIDUMEF project that concluded in 2021. Other partners that participated in the project were Festambiente (Legambiente), the Arab Office for Youth and Environment, the Palestine Wildlife Society, the Moroccan Club for Environment and Development, all of which are member NGOs of MIO-ECSDE.
The seminar gathered representatives from NGOs, students, researchers, teachers and media professionals.
Dr. Khaled Ghanem, Professor of Organic Agriculture and Head of the Department of Environment and Biodynamic Agriculture at the Al-Azhar University in Egypt, informed that the Mediterranean diet is characterized by a nutritional model that consists mainly of olive oil, cereals, fresh or dried fruit and vegetables, a moderate amount of fish, dairy and meat, and many condiments and spices. He shared with the participants interesting facts such as how bread was considered an important food for the inhabitants of the Mediterranean in antiquity as well, and was considered synonymous to food for life. The Egyptians call it "aish" which means life. They were the first to build ovens and the murals depict 50 types of bread and pastries produced by the ancient Egyptians.
Researcher Safaa Al-Hayer presented the handbook that was created by SIDUMEF, which can be utilized in a variety of formal and non-formal learning settings, as well as for awareness-raising of the general public. The handbook targets everyone from the age of 15 and over.
Prof. Mohamed Ftouhi, President of the Moroccan Club for Environment and Development, called on civil society and the educators to expand on this cultural heritage for greater cohesion between the peoples of the region, to overcome gaps or artificial divides.
Mr. Mohammad Tafraouti, a member of COMJESD and Moroccan Environmental writer and journalist, wrote an article on the seminar, published in Morocco Media News. You can read the full article here.
Read in French here