Some 18 NGO representatives from 8 countries, namely Belarus, Estonia, Greece, Latvia, Lithuania, Poland, Russia and Sweden, were brought together in a two-day workshop on marine litter monitoring. The workshop was organized on 2-3 November 2016 in Gdansk (Poland) by the Coalition Clean Baltic in collaboration with the Polish Ecological Club and it was led by MIO-ECSDE.
The participants were introduced to the theme of marine litter, its sources and impacts, as well as the main legislative frameworks relevant to the countries sharing the Baltic Sea and the key actions undertaken at European and Regional Sea Conventions to combat marine litter. The participants had the opportunity to get acquainted step-by-step with the methodology for monitoring marine macro-litter on beaches and gained hands-on experience on how to perform beach litter surveys. The participants surveyed two transects on the coastline of Gdansk and processed the respective data in order to obtain a snapshot of the marine litter density in the area and the potential main sources.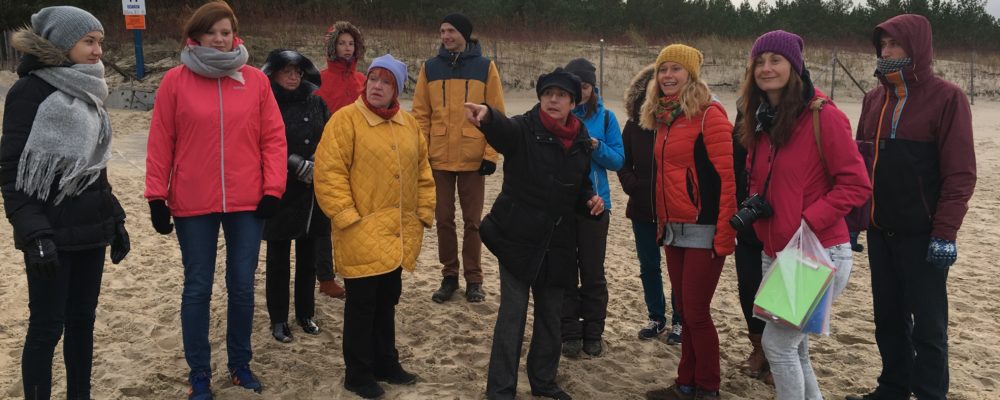 The findings of the survey indicate that the majority of items collected are plastic (94%). The top 10 items include cigarette butts and filters (33.6%), cotton bud sticks (20.8%), plastic pieces 2.5cm ><50cm (7.7%), other identifiable plastic/polystyrene pieces (5.2%), plastic caps/lids from drinks (~3.1%), unidentified plastic caps/lids (2.5%), plastic construction waste (2.3%), lolly sticks (2.1%) and foam sponge (2.1%). These are just some preliminary results and definitely more regular surveys are needed to identify the main sources of litter in the area, however these first data indicate that the majority of litter originates from recreational activities on the coast, while the increased presence of cotton bud sticks reveal inputs from sewage discharges either released directly into the marine environment or released into the nearby Vistula River. The calculated density of litter items was 482 items/100 meter stretch or 0.079 items/m2.
The workshop was also a direct contribution to the first ever Marine Litter Watch Month that took place in more than 75 of Europe's most beautiful beaches from 17 September to 16 October 2016. The Marine Litter Watch Month is an initiative of the European Environment Agency jointly with over 20 NGOs – one of which CCB and MIO-ECSDE – and research institutes. The Marine Litter Watch aims to fill the 'data gaps' that are hampering an effective implementation of essential measures to address the growing threat of marine litter in European Regional Seas.
Find below all workshop presentations made by MIO-ECSDE Programme Officer Thomais Vlachogianni, who led the workshop.