The Lebanese Association for Energy Saving and For Environment (ALMEE), a member organization of MIO-ECSDE, is the Lebanese partner in the project meetMed (Mitigation Enabling Energy Transition in the Mediterranean) funded by the European Union. MeetMED aims at contributing to energy and climate transition in Southern Neighbourhoods, through a multiscale, multi-partner, inclusive approach in order to achieve a more stable, efficient, competitive and climate-resilient socio-economic environment in Southern Mediterranean Countries. In this context, a series of three high-level events known as the meetMED Weeks is foreseen to happen where policymakers and the most relevant stakeholders convene to exchange experiences and discuss the next steps for the decarbonization of the region.
The second edition of meetMED Week was held in Marrakesh, Morocco, from 9 to 11 May 2023 under the main theme of "Together Towards Efficient Buildings & Appliances in the Mediterranean". It was organized in cooperation with the Regional Center for Renewable Energy and Energy Efficiency (RCREEE), the Mediterranean Association of the National Agencies for Energy Management (MEDENER), and the Moroccan Agency for Energy Efficiency (AMEE).
ALMEE, as a founder member of MEDENER and as a partner of the project, actively participated in several panel discussions.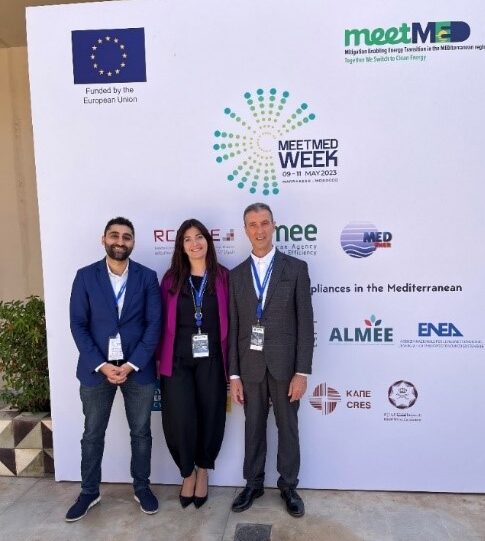 During the discussion on financing Energy Efficiency in the South Mediterranean countries, Mr. Rayan Mourtada, energy and economic expert at ALMEE, gave an overall picture of the economic crisis affecting Lebanon and shared the surprising news that within the crisis, the energy efficiency measures turned out to be actually more profitable compared to the pre-crisis period. As part of the "Monitoring and Evaluating Energy Efficiency in the South-Med Region" session, Dr. Adnan Jouni, energy expert at ALMEE, presented the national report on Energy Efficiency Indicators.
During the "Concerted Action on Buildings" sessions, Dr. Sabine Saad, energy and environmental expert at ALMEE, presented the plan of ALMEE to improve and implement the Energy Efficiency Building Code in Lebanon. Dr. Saad also participated in the panel discussion on "Concerted Action on Appliances" and shared her knowledge on many topics, including Appliances Landscape and Identifying Significant Policy Gaps, Financing of Efficient Appliances, MEPS, Labelling, Testing & Marker Surveillance, and Scrapping Campaigns & Public Awareness in the South-Med countries.
Read in French here